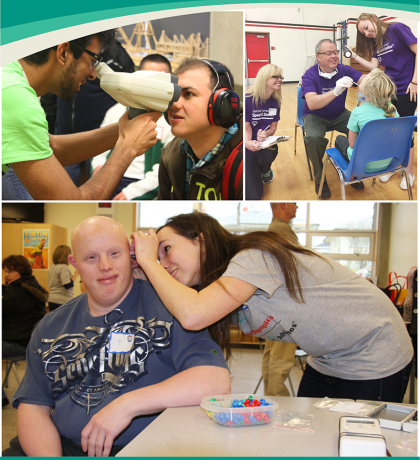 April 7 is World Health Day, advocating health access for all, and this week we are turning the spotlight on parts of Special Olympics BC's work on inclusive health to address the critical challenges faced by individuals with intellectual disabilities. 
In every country around the world, people with intellectual disabilities experience worse health care and access to services than others in their communities, leading to dramatically higher rates of preventable disease, chronic pain and suffering, and premature death. Special Olympics and our partners will not let this injustice continue.
Here we'll look at the resources SOBC offers to help athletes enhance their health, and to help practitioners serve individuals with intellectual disabilities in more effective and supportive ways. 
SOBC has a page of athlete health resources to provide a valuable selection of tools that can help athletes elevate their health and wellbeing, in order to be at their best both in sport and in life. These resources cover nutrition, physical training, mental training, and background on the helpful Healthy Athletes screenings.  
The newest tool added is this booklet for athletes to take to health care appointments, which is intended to help with communication and followup. Athletes can print this and take to appointments to help them talk about issues and keep track of what needs to happen next. 
This tool helps address the communication challenges that play a big part in the dramatically higher rates of health problems faced by individuals with intellectual disabilities. Not only is it useful for athletes to take to appointments, health practitioners can keep copies in their offices to help them better support their patients with intellectual disabilities. One North Vancouver optometry clinic has already stocked up on copies, seeing the value in improving communication tools.
SOBC is striving to work with health practitioners to enhance their understanding of and ability to support individuals with intellectual disabilities by creating tools such as the above, and more. In 2018 SOBC teamed up with the Canadian Dental Hygienists Association and the Golisano Foundation to launch the Lifelong Smiles for Individuals with Intellectual Disabilities online course.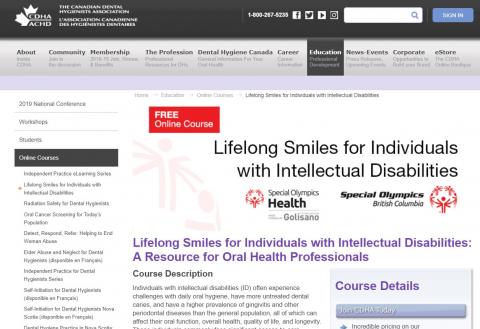 Developed by dental hygienists, the free four-module course helps oral health professionals more effectively connect with and support clients with intellectual disabilities in maintaining good oral health over their lifetime. Read more
Health practitioners are keen to get more education to better support individuals with intellectual disabilities. As of April, the Lifelong Smiles course has been accessed by more than 1,460 participants. The initial goal for the first year of the course was to reach 120 people, and that number was attained in the first two weeks after launch! 
Special Olympics BC's impactful health work would not be possible without the support of valued sponsors including the Government of British Columbia, the Government of Canada, the Golisano Foundation, LifeLabs, Sobeys, Westminster Savings, and the ongoing support of our provincial partners and fundraising events. 
Learn more about SOBC health initiatives
Stay tuned to our social media channels for more features leading into #WorldHealthDay!