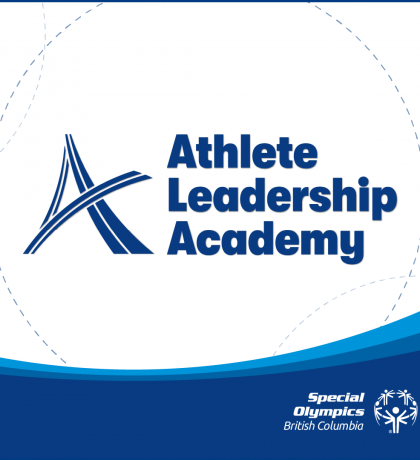 Special Olympics BC Athlete Leadership courses help athletes develop new skills, confidence, and tools to share their own insights, stories, and sport knowledge. Athlete leaders make a big difference in their communities and throughout the Special Olympics movement!
In order to help athletes get the most out of their courses, and to inspire and recognize ongoing commitment and achievements, Special Olympics BC is launching an Athlete Leadership Academy! 
The Special Olympics BC Athlete Leadership Academy includes and links all of the courses that SOBC has traditionally offered. There will be new courses added too! Please complete the membership commitment form to get involved.
Find the form and more information
To participate in the SOBC Athlete Leadership Academy, athletes with the below qualifications can register for a specific stream that matches their interests. Participating athletes will complete Level 1 course(s) before moving on to the Level 2 courses in their stream. After completing the required number of courses in their stream, athletes will be recognized as program graduates and will receive an Academy diploma and swag!
New courses will be added as opportunities come up. The additions can be counted as credits for your Academy certificate. 
Participating athlete leaders must have:
A mentor to support their journey and work with them on course material
The endorsement of their Local
The desire to complete their Athlete Leadership Academy stream within three years
The Athlete Leadership Academy streams will be:
Public Speaking
Input
Sport
Health
Please click here to learn more about the SOBC Athlete Leadership Academy and find the membership commitment form!
Athlete Leadership Academy info & commitment form
Stay tuned for more announcements about training opportunities that will be offered this season!
Latest Athlete Leadership news