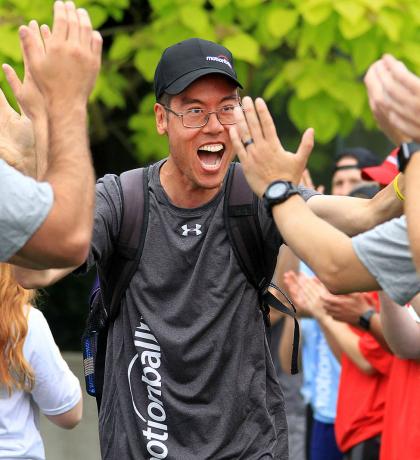 As we celebrate the 50th anniversary of Special Olympics globally, we are taking a look back at the #50moments that have defined the Special Olympics movement here in B.C. and throughout the world.
motionball is a national not-for-profit organization whose mandate is to introduce the next generation of donors, volunteers, and sponsors to the Special Olympics movement through integrated social and sporting events. motionball now proudly hosts 40+ annual events in 20 Canadian cities. Since its inception in 2002, motionball has donated over $11,000,000 net to the Special Olympics Canada Foundation and Special Olympics Chapters across Canada, thanks to its successful events and as a result of the many individuals, partners, and organizations that have supported the movement.
In 2002, the motionball movement was brought to life by Paul, Mark, and Sean Etherington, brothers whose family has a long and impactful history with Special Olympics Canada.
Paul Etherington volunteered as a Special Olympics floor hockey coach, and all three brothers became close with one of Paul's floor hockey athletes, Kevin Timberlake, who also worked at the family business, Etherington Generations. They watched Kevin come out of his shell and develop his own landscaping and carpentry businesses.
"It became very clear that Special Olympics is a lot more than sport competitions," Paul said. "It's about providing opportunities, it's about enriching the athletes' lives, giving them self-confidence."
Once the brothers all graduated from university, they decided to follow in their father's footsteps and create their own signature event in support of Special Olympics.
"We wanted to get our demographic involved – what we would call 'young professionals,'" Paul said.
The Etherington brothers came up with the idea for motionball, an organization that raises awareness and funds for the Special Olympics Canada Foundation through integrated social and sporting events. The not-for-profit hosts galas, as well as its flagship event Marathon of Sport – a day of inclusive athletic competitions in which every team plays with a Special Olympics athlete.
"It's all about getting to know your Special Olympics athlete," Paul said. "Often 90 per cent of our participants have never spent time with an individual with an intellectual disability. By the end of the day, they're sharing email addresses or cell phone numbers; they get a sense of what they're supporting. It's pretty awesome to watch."
Today, motionball events run in 21 cities and 16 universities across Canada, with more than 500 teams and 7,500 supporters raising funds and awareness for the Special Olympics Canada Foundation. motionball also runs the No Good Way awareness campaign to encourage Canadians to end the hurtful use of the R-word.
In B.C., motionball began by hosting the 6 Degrees of Separation gala in Vancouver, and quickly grew to include Marathon of Sport events and additional galas and awareness opportunities. Today, dedicated volunteer committees organize very successful motionball Marathon of Sport events in Vancouver and Kelowna, and there are plans to expand to other communities.
We can't wait for Marathon of Sport Vancouver presented by Hootsuite at EA Sports on June 1, and Marathon of Sport Kelowna presented by Kelowna Toyota on September 21! Please visit www.marathonofsport.com to learn more and donate.