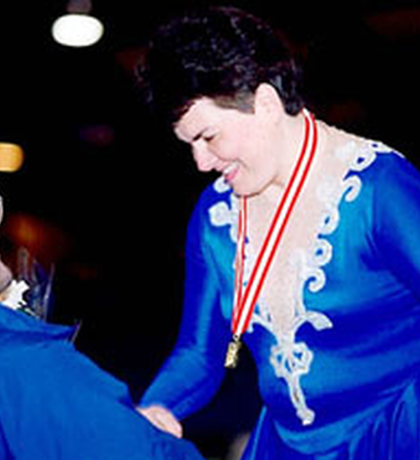 As we celebrate the 50th anniversary of Special Olympics this year, we are taking a look back at the #50moments that have defined the Special Olympics movement here in B.C. and throughout the world.
Special Olympics BC – Coquitlam athlete Julie Keldsen is a decorated athlete and Hall of Fame member who achieved the distinction of being the first SOBC athlete to compete at three Special Olympics World Games in three different sports. 

After becoming involved with Special Olympics in 1984, Keldsen consistently impressed her coaches and fellow athletes with her attitude, commitment, and drive. In 1989, Keldsen took to the slopes in the 1989 Special Olympics Winter Games in Reno, Nevada, where she won a bronze medal in alpine skiing.
The next winter Games cycle saw Keldsen reach the world stage once again at the 1993 Special Olympics World Winter Games in Salzburg, Austria. However, this time she had traded in her skis for figure skates, achieving a silver medal for her personal-best performance.

Keldsen's talent and drive continued into summer sports, and in 1999 she reached on top of the international podium at the Special Olympics World Games in Raleigh, North Carolina, where she won three gold and two silver medals in rhythmic gymnastics. 

In 2002, her significant accomplishments were celebrated with induction into the Special Olympics BC Hall of Fame.

Two years later, Keldsen went on to achieve success in yet another sport at the 2004 Special Olympics Canada Winter Games in Charlottetown, Prince Edward Island. There, Keldsen hit the ice in speed skating and raced her way to four medals: one gold, two silver, and one bronze.

Keldsen's drive and athletic skills have been an inspiration to many, and she has been a true demonstration of the determination and drive of Special Olympics athletes. Her incredible achievements helped break down stereotypes of people with intellectual disabilities and showed the world just how much Special Olympics athletes can do.