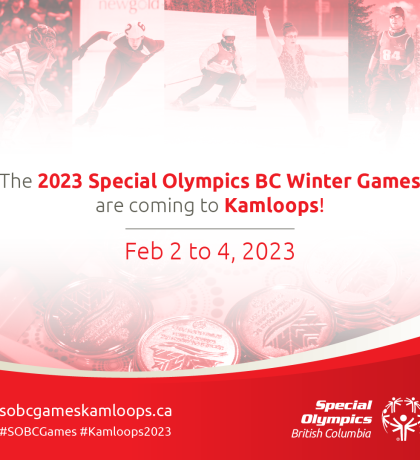 Special Olympics BC is thrilled and grateful to announce that Jan Antons has taken on the role of Chairman for the 2023 SOBC Winter Games, joined by outstanding local volunteers on the Games Organizing Committee.
As a past winner of the City of Kamloops Exemplary Service Award and the Premier's Above & Beyond Award for Acts of Selflessness and Bravery, and a committed community volunteer in sport and emergency support, Antons needs little introduction. He has had an enduring impact as a volunteer and leader in many local events and organizations, but especially in sport opportunities. Antons has played vital roles with the Kamloops Broncos, the BC Hockey Thompson Blazers, KidSport, the Kamloops International Bantam Ice Hockey Tournament, BC Winter Games, Canada 55+ Games, and more throughout the years.
To Special Olympics BC, Antons is a long-standing and deeply appreciated leader for our Provincial Games. He served as the volunteer Director of Special Events for both the 2015 and 2017 SOBC Games in Kamloops. In those roles, Antons produced vibrant and fun-filled events that SOBC athletes and coaches talked about for years afterwards. Antons went above and beyond by pitching in throughout those Games, deeply committed to creating an outstanding experience for all.
SOBC is so grateful to Antons and all the members of the 2023 SOBC Games Organizing Committee for making this empowering and inspiring event possible.
"Special Olympics BC Games matter so much to the athletes who get to challenge themselves, showcase their skills, and feel the pride of being part of their Regional team. We're so very grateful to Jan and the volunteers giving their time and skills to the Games Organizing Committee to help make these experiences possible," says Lois McNary, SOBC Vice President, Sport.
This season, Special Olympics BC athletes around the province are participating in Regional Qualifier competitions to qualify for the 2023 SOBC Winter Games.
About the 2023 Special Olympics BC Winter Games
The 2023 Special Olympics BC Winter Games will be hosted in Kamloops from February 2 to 4 next year. The 2023 SOBC Winter Games will star approximately 800 athletes with intellectual disabilities competing with pride in the eight SOBC winter sports: 5-pin bowling, alpine skiing, cross country skiing, curling, figure skating, floor hockey, snowshoeing, and speed skating. The participating athletes will be supported by approximately 250 volunteer coaches and mission staff.