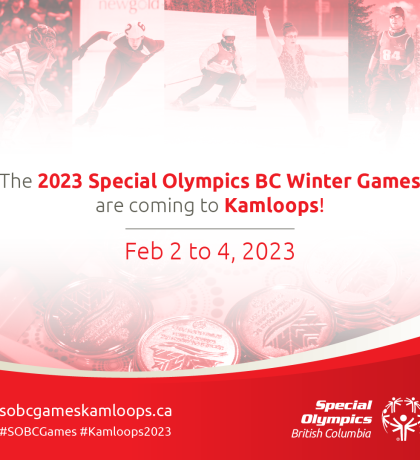 The 2023 Special Olympics BC Winter Games will be hosted in Kamloops from February 2 to 4 next year, marking the fifth time Canada's Tournament Capital has played host to Provincial Games for B.C. and Yukon athletes with intellectual disabilities. 
The 2023 SOBC Winter Games will star approximately 500 athletes with intellectual disabilities competing with pride in the eight SOBC winter sports: 5-pin bowling, alpine skiing, cross country skiing, curling, figure skating, floor hockey, snowshoeing, and speed skating. The participating athletes will be supported by approximately 250 volunteer coaches and mission staff.
"I am so pleased on behalf of Tk'emlúps te Secwépemc to be extending a warm welcome to the 2023 Special Olympics BC Winter Games being held here in Kamloops. They will be visiting our direct unceded ancestral lands within Secwepemcúlecw (Shuswap Nation) and we look forward to all the athletes who will be visiting the tournament capital. We hope that everyone enjoys the beauty of these traditional lands while here in Kamloops and has an amazing time competing in all the categories of this wonderful sporting event," says Kukpi7 Rosanne Casimir, Tk'emlúps te Secwépemc.
"We are pleased to once again host the Special Olympics BC Winter Games. The pandemic has been a long road for everyone—we are fully prepared to host and celebrate the return to sport at an event where everyone is empowered to achieve their personal best," said City of Kamloops Mayor Ken Christian. "Sports have the power to bring people together, and we can't wait to welcome back athletes, coaches, officials, and spectators into our community."
"We're thrilled to be returning to Provincial Games action, after a pandemic pause, and we're beyond thrilled to be returning to Kamloops," says SOBC Vice President, Sport, Lois McNary. "Canada's Tournament Capital truly knows how to host exceptional sport experiences. Special Olympics BC athletes and volunteers cannot wait to come back together for Provincial Games. The joy surrounding these Games will be off the charts."
"I am excited that the 2023 Special Olympics BC Provincial Winter Games are coming to Kamloops," SOBC – Kamloops athlete Joshua Trudell says. "It was an honour and fun to compete in the 2019 Provincial Winter Games in Vernon. I made new friends, challenged myself with my skills, and made fun memories. I hope that I get a chance to compete in the 2023 SOBC Winter Games when they are in my own hometown, so friends and family can come and cheer me on."
Kamloops hosted the first-ever Special Olympics BC Games in 1986, and went on to host SOBC Summer Games in 2017 as well as SOBC Winter Games in 2015 and 2003.
Provincial Games are exciting and empowering experiences for Special Olympics athletes. For many, these Games offer their first opportunity to have the joy of travelling and being part of a team. SOBC Games give athletes the chance to be seen and celebrated for their abilities, which matters now more so than ever coming out of the isolation deepened by the pandemic.
All Special Olympics BC events and programs now operate in accordance with strong Return to Sport safety protocols, prioritizing and protecting the health of all participants. All aspects of SOBC Games operations are being reviewed to meet the current safety standards, and the 2023 SOBC Games will include several heightened initiatives including all competitors and coaches staying in hotels instead of the previous school-based accommodations.
Currently, Special Olympics BC athletes around the province participate in their year-round programs, which are running with SOBC's strong safety protocols in place. In winter 2022, they competed in Regional Qualifiers to qualify for the 2023 SOBC Winter Games.
The 2023 SOBC Games competitors will pursue personal-best performances as well as chasing the opportunity to advance to national and international levels of competition. Top performers in the 2023 SOBC Games will qualify to compete in the 2024 Special Olympics Canada Winter Games, which will be the qualifier for the 2025 Special Olympics World Winter Games. 
Approximately 1,000 volunteers will be needed to help stage the 2023 SOBC Winter Games. Volunteer registration details, Games venues, and more will be announced in the weeks to come. Follow the news by staying tuned to our website and connecting with us on social media; the Games hashtags will be #SOBCGames #Kamloops2023.
For Regional team members, the Games dates will be February 2 to 5, 2023, including travel home on the Sunday.
Media coverage
Videos
2015 SOBC Winter Games Kamloops recap
2017 SOBC Summer Games Kamloops recap
2019 SOBC Winter Games Greater Vernon recap