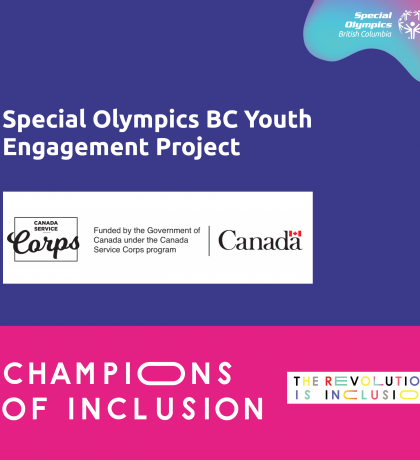 The third Special Olympics BC Youth Engagement Project is getting underway! In 2021-22, SOBC will be gratefully collaborating with young changemakers ages 16 to 29 to increase inclusion and respect for people with intellectual disabilities in communities across B.C.
Participants create resources, support, and inclusion for people with intellectual disabilities throughout the province. Their sport and awareness initiatives build many positive benefits in their communities and province-wide.
The SOBC Youth Engagement Project is generously funded by the Government of Canada under the Canada Service Corps program.
The 2021-22 participants came together virtually in late July for a kickoff summit. They brainstormed their projects and learned from previous projects. They also heard motivating remarks by SOBC Athlete Input Council members Vincent Li and Susan Wang, and by Special Olympics Canada Champions Network member Michelle Salt, a two-time Paralympian and inspiring storyteller.
Throughout fall 2021, Youth Engagement Project members are rocking their 10-week community project management training course. From November 2021 to March 2022, they will work with the support of SOBC to implement their projects. Each project will tackle one of three themes: inclusive schools, physical literacy, or nutrition literacy.
A warm and grateful welcome to the 2021-22 Youth Engagement Project participants:
| | |
| --- | --- |
| Abhisek Nair | Burnaby |
| Adora Wong | Okanagan |
| Alannah Ford | Victoria |
| Andrea Jones | Vancouver |
| Angela Yang | Vancouver |
| Austin Cho | Port Moody |
| Brett Caswell | Vancouver |
| Cedric Iyumva | Surrey |
| Daniel McClement | Vancouver |
| Janko Vong | Coquitlam |
| Jashan Sandhar | Delta |
| Jo So | Victoria |
| Lauren Caswell | Vancouver |
| Olivia Sullivan | Vancouver |
| Rachel Dong | Vancouver |
| Rojella Santos | Maple Ridge |
| Veronika Kitzul | Radium Hot Springs |
| Zach Lidder | Surrey |
In the 2020-21 Youth Engagement Project, McClement created an outstanding nutrition literacy initiative called SOBC Chefs. The program helped participants make healthier food choices, prepare meals for themselves, and gain the necessary skills to follow a healthy diet, all in a fun and interactive way. 
"Our goal was to make an engaging, COVID-friendly culinary course accessible for people with intellectual disabilities. … It was a fun activity for the athletes. It was great seeing their smiling faces when they received their boxes. I think it was a unique experience for them."

-Daniel McClement
Stay tuned for more news from the 2021-22 Youth Engagement Project!
Check out the SOBC Chefs recipes and videos 
Find more resources and stories from the Youth Engagement Project