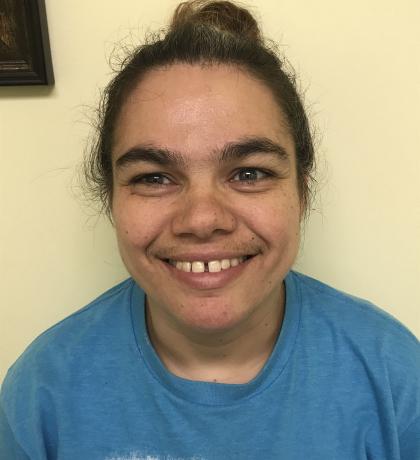 Special Olympics BC – 100 Mile House's Tricia Beauvais is an enthusiastic athlete who always gives her all.
"There are no limits to her 'try' and she always encourages others to try their best and that little bit more," says SOBC – 100 Mile House Local Coordinator Ralph Myhill-Jones.
Myhill-Jones says Beauvais inspires coaches and other athletes with her enthusiasm and positivity.
"Tricia is always quick with a smile and cheers on her fellow athletes. She is appreciative of what the volunteers do for her and Special Olympics."
Beauvais takes part in 5-pin bowling and golf, and says both sports are her favourites. Beauvais loves how SOBC programs give her opportunities to spend time with her friends.
"We do fun stuff!" she says.
Beauvais says Special Olympics is great because it allows athletes to be part of a caring, supportive community.
"It helps us look after each other."
Beauvais loves working with her fun, friendly coaches. She says her coaches help her with technique, and in bowling this has helped her get strikes and spares.
One of her favourite memories with Special Olympics was attending a bowling tournament in Dawson Creek. Her team finished in first place and Beauvais loved the energetic atmosphere.
"People were cheering us on!" she said.
Another highlight for Beauvais was competing in 5-pin bowling at the 2017 Special Olympics BC Summer Games in Kamloops. She said it was fun to compete with her team, and she trained very hard for the event. She especially liked getting to meet athletes from across the province.
"It was awesome and good!" Beauvais said.
Outside of Special Olympics, Beauvais has three jobs. She washes dishes at a pizza restaurant, processes donated items at a thrift shop, and cleans at a local church. She enjoys working hard and earning money because it helps her be independent. She says Special Olympics programs have helped her learn how to interact with people, and that has helped her succeed in the workplace.  
Looking forward, Beauvais says her goals are to keep working hard and continue to improve her bowling and golf skills.