So you want to be a volunteer?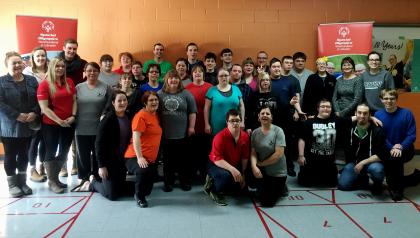 Special Olympics would not exist today - and could not have been created - without the time, energy, commitment, and enthusiasm of people just like you, individuals who choose to take a little time from busy schedules to make the world a better place. More than 650 SONL volunteers and coaches across the province make our programs possible and make a difference in the lives of our athletes.
Who can volunteer?
You don't need a sport background to volunteer with SONL.  All you need is enthusiasm for helping empower people with intellectual disabilities through sport. Many volunteer positions are available including coaching roles head coach, assistant coach, program leader and operational volunteer and/or administration roles.
Why volunteer with SONL?
There are many reasons to get involved, and many benefits, including:
Building friendships and networking connections
Developing new skills for personal and professional development
Gaining volunteer hours for school programs
Getting involved with your community
Sharing your love of sport
And, most of all, experiencing the joy of working with our athletes
How to become a Volunteer
Step 1: Reaching Out! Contact Us! 
Please reach out directly to one of our clubs. You can also reach us our staff  at trishw@sonl.ca or (709) 738 1923 or 1-877-738-1913
Step 2:
Your local club will provide you with a Volunteer Registration Form.
Step 3: Screening Complete a Criminal Record Check form.
You can obtain this form from your local RCMP/RNC. This is strictly for risk management purposes to ensure that all volunteers and athletes are safe and protected.
Step 4: Submission of Forms
Submit the completed 
and Criminal Record Check to your Special Olympics Club Coordinator.
Step 5: Clearance to Volunteer
After the local club processes your information you will be contacted. Once you have been contacted you will be asked to complete online Volunteer Orientation Training! Once this training has been completed you will be a accredited Special Olympics Newfoundland & Labrador Volunteer!