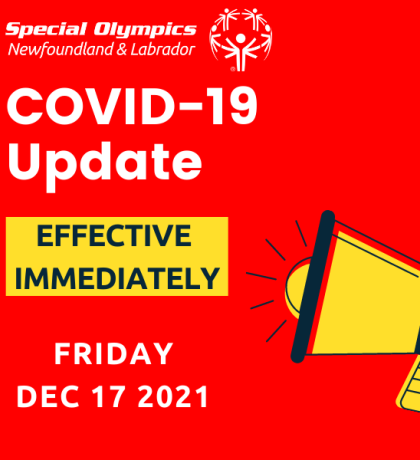 memorandum - effective IMMEDIATELY
date: Friday, DECEMBER, 17 2021
to: ALL community clubs in Newfoundland and labrador
from: program director, kim McDonald-Wilkes
subject: return to program UPDATE - PAUSE ALL PROGRAMS/EVENTS FOR THE REMAINDER OF THE 2021 CALENDAR YEAR
-------------------------------------------------------------------------------------------------------------
Out of an abundance of caution and considering the public advisory and changes in Public Health guidelines announced today, Friday, Dec 17th, 2021, by Dr. Janice Fitzgerald, Chief Medical Officer of Health.
Effective immediately all in-person programs and events for the remainder of the 2021 calendar year are to pause. Programs scheduled to begin in the new year may start as planned unless community clubs are advised otherwise. Please communicate this update to all program/event participants as needed.
Our SONL Return to Program Plan is being monitored and updated continually through guidance from Public Health, Sport NL and Special Olympics Canada. Please be patient with our staff as we work through this quickly, evolving time.
SONL Return to Program Plan and supporting resources: https://www.specialolympics.ca/newfoundland-and-labrador/return-program
Please continue to follow all Public Health guidance and stay up to date with COVID-19 in our province here: https://www.gov.nl.ca/covid-19/.
Thank you all for your patience and cooperation during this time. We hope you all enjoy the upcoming holiday season and stay safe.  If you have any questions, please do not hesitate to reach out.
Kim McDonald-Wilkes, she/her/hers
Program Director
kimm@sonl.ca 709 293 1444