COVID-19 INFO and UPDATES 
Hare Bay to Canada Bay on the Northern Peninsula is at Alert Level 3 - SONL Phase A
Remainder of the Province is at Alert Level 2 (Step 2 Together Again Plan) - SONL Phase B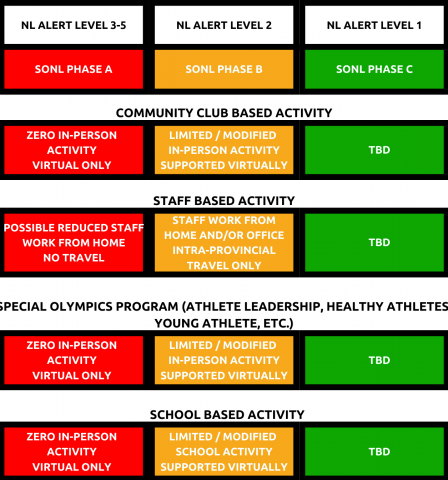 For additional information please contact 
Program Director, Kim McDonald-Wilkes, she/her/hers kimm@sonl.ca 709-293-1444
---------------------------------------------------------------------------------------------------------------------
RETURN TO PROGRAM PLAN
Sport and physical activity play a vital role in the physical, psychological, and emotional well-being of participants in Special Olympics.  The health and safety of all our participants and the greater community remain our number one priority, as we all work together through a slow and steady phased return to in-person programs.
SONL in consultation with Special Olympics Canada (SOC), Sport NL, Provincial Sport Organizations (PSO's) and Health and Community Services NL (Public Health) have developed the SONL Return to Program Plan (RTP).
PROCESS
Step 1: Club executive decide to return to in-person program
step 2: club executive and volunteers review Full SONL Return to Program PLAN
Step 3: Club executive submit online rtp application PER PROGRAM - await SONL approval
*Step 4: sonl staff virtually meets with club executive and volunteers for initial in-person program only
step 5: sonl grants final approval, club begins in-person program
*This process must be completed by Club Executive, in full, for each program. i.e., if a club would like to return to both Bocce and Athletics, all steps outlined are to be completed and approved by SONL for Bocce and again for Athletics.
RETURN TO PROGRAM (RTP) APPLICATION *CURRENTLY UNDER REVIEW
ONLY Applications COMPLETED BY CLUB EXECUTIVE MEMBERS WILL BE ACCEPTED.
Complete application in full, scroll to bottom and click "Next" as needed.
Once THE application IS completed, SONL automatically receives an email indicating the application has been SUBMITTED and will contact THE club to work through next steps as listed above.

RETURN TO PROGRAM PLAN *CURRENTLY UNDER REVIEW
REQUIRED REGISTRATION FORMS
For additional information on all required  registration forms please contact
YOUTH DEVELOPMENT Coordinator, LESLEY PILGRIM, she/her/hers, LESLEYP@SONL.CA, 709-738-1923
Please ensure you are using the most up to date form, date is indicated below.

Please note as of Friday Aug 6, 2021 - Declaration Forms will NO LONGER be required.  For clubs that have collected them, please keep them on file.
FORM

WHO

WHEN

*July 2021

 

*July 2021 

 

All registered members (athletes, coaches, volunteers)
Once per program year. This waiver is completed with yearly registration.

*August 2021

 

*August 2021 

Any individual at a Special Olympics event that is not a registered member.
Every Special Olympics event. Once per program year if attending events regularly.

Club Specific Athlete Registration form can be found on your Community Club Page

*2021-2022 

All athletes involved with Special Olympics NL

 

Prior to beginning a program (Virtual or In-Person)

 

*2021-2022

 

 *2021-2022

All volunteers involved with Special Olympics NL

Prior to beginning a program (Virtual or In-Person)

 
IMPORTANT RETURN TO PROGRAM FORMS 
attendance protocol  & tracker

Followed at all Special Olympics events, by all individuals (registered & non-registered who enter the field of play) 

 

*July 2021

 

covid-19 screening questionnaire

All individuals must complete at every Special Olympics Event

 

 

*July 2021

 

MOBILE FRIENDLY VIEWING

Mobile Friendly View COVID-19 SCREENING QUESTIONNAIRE *July 2021

 

 

positive case protocol

Followed at all Special Olympics Events

 

 

sport-specific guidelines

To assist with all Return to Program sport programs

 

*July 2021

 

 
ADDITIONAL RESOURCES
COMPETITIONS
There will be no in-person competitions for the remainder of the 2021 calendar year.  For a complete forecast of our competition calendar for 2022 and beyond please visit the COMPETITION section of this website.