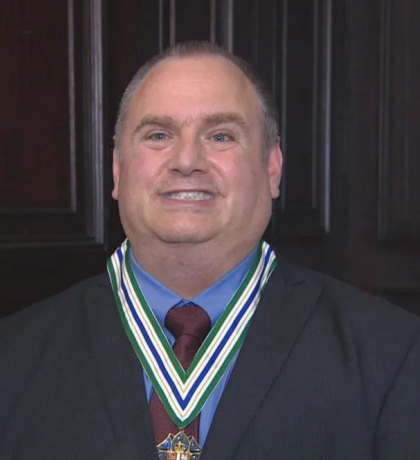 Special Olympics Newfoundland and Labrador athlete John (Jackie) Barrett is one of nine outstanding individuals invested into the Order of Newfoundland and Labrador on Wednesday, September 2, 2021.
The Order of Newfoundland and Labrador is the province's highest honour, given to individuals who have demonstrated excellence and achievement in any field of endeavour, benefiting Newfoundland and Labrador and its residents in an outstanding manner.
Jackie Barrett has been actively involved with Special Olympics since he was a child, starting in 1987. In the Class of 2020-2021 Canda's Sports Hall of Fame Inductees, he became the first-ever Special Olympics athlete inducted.
Jackie's hard work and perseverance are exemplified by his many achievements in both sport and life. He has been a great ambassador, representing Newfoundland and Labrador and Canada on the world stage.
He was nominated for the Lou Marsh Trophy in 2015, recognizing him as one of Canada's top athletes that year. In celebration of Special Olympics' 50th year in Canada, John (Jackie) Barrett was named one of 50 Movement Makers, a title given to those who have played a significant role in helping the organization achieve the milestone or have a powerful voice in the organization's future.
The now-retired Corner Brook Vikings athlete, also known as "the Newfoundland Moose," has broken not only Special Olympics records throughout his 28-year career but also those of his able-bodied counterparts. Jackie says the Order of Newfoundland and Labrador tops all the medals and awards he's won as an athlete.
"For a person with a disability to be invested into the Order of Newfoundland, especially a Special Olympics athlete, it's not just a victory for me, but it's a victory of inclusion regardless of their difference," he said after the ceremony on September 2, 2021. "
He now volunteers with the Special Olympics Corner Brook Vikings club. He mentors the club's Special Olympics powerlifting athletes and serves as an Executive Member and Athlete Leader to many.