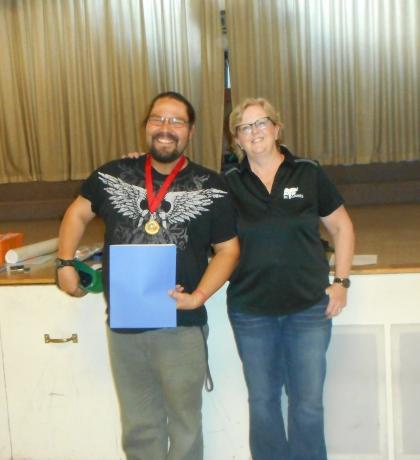 Special Olympics BC – Penticton's Mona Hazell is a dedicated volunteer who is always ready to step up and support SOBC athletes in any way she can.
"Her hard work and leadership have been critical to SOBC – Penticton's success," says Lois McNary, SOBC Vice President, Sport. "We are very appreciative of her experience and expertise, and she has played an important role in developing SOBC programs in her community and across the province."
Currently, Hazell serves as her Local's Secretary, Treasurer, and interim Local Coordinator – and she also coaches multiple sports. Hazell says working with Special Olympics athletes is very rewarding, and she has made many wonderful memories over her time with SOBC. 
Hazell wants others to know that SOBC – Penticton has been providing athletes with empowering opportunities for more than 30 years. Also, athletes and coaches from the Local have shown their skills on provincial, national, and international stages.
When did you start with Special Olympics?
In the late 1980s. I read in the local newspaper that they were looking for volunteers to get Special Olympics up and running in Penticton. I attended a meeting and by the end of it I was coaching 5-pin bowling, was on the Local Committee, and if they had a Special Olympics bus I would have been driving it.   
Today I am still coaching and on the Local Committee. I am the Secretary/Treasurer and filling in as Local Coordinator until we can find someone to take over. My coaching and volunteer duties are Head Coach for 10-pin bowling, Assistant Coach for snowshoeing and bocce, and I help out with swimming and basketball.
What has been your most memorable Special Olympics experience? 
Attending the 2014 Special Olympics Canada Summer Games in Vancouver. While I've had the opportunity to attend many Provincial Games over the years, this was my first time at National Games. I was very proud to be a member of Team BC. 
What is your favourite thing about being involved with Special Olympics?
The opportunity to be able to work with so many different and talented athletes. When you see how important it is to them to participate in sport programs and the genuine happiness of being a Special Olympics athlete – it makes it so worthwhile. You can't put a price on the "Aha!" and "Kodak moments" that I have had the pleasure of seeing over the years.
What would you like others to know about SOBC – Penticton?
We have been providing sport programs for more than 30 years in Penticton. Currently, we have 80 athletes participating in 10 different sport programs. Special Olympics BC – Penticton has been very fortunate over the years to have athletes and coaches qualify to attend World Games in Shanghai, Pyeongchang, Los Angeles, and Austria. Our SOBC – Penticton bocce team was the first-ever Canadian bocce team to participate in a World Games in Los Angeles!