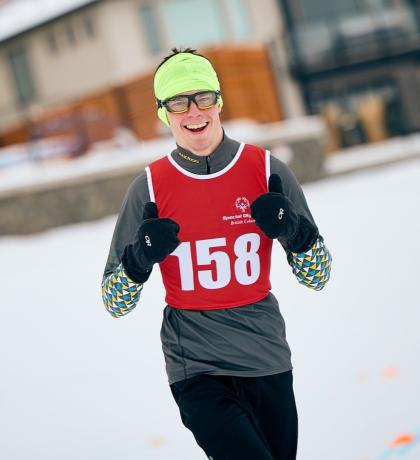 Special Olympics BC – Smithers athlete Torben Schuffert has been involved with Special Olympics BC since 2012, and recently competed with pride in snowshoeing at the 2023 SOBC Winter Games presented by Prospera Credit Union.
He is also the hardworking Region 7 representative on the SOBC Athlete Input Council, and will be part of the Global Athlete Congress at the 2023 Special Olympics World Summer Games in Berlin!
As part of his commitment to the Congress, Schuffert has been successfully leading a powerful inclusion project called Shine Together. He reached out to the strong community of artists in his hometown of Smithers to encourage them to connect with people with intellectual disabilities and champion inclusion. This led to the creation of the Shine Together band who wrote a song about living with intellectual and developmental disabilities, and an art group who created paintings while listening to the song.
"I want to grow inclusion and understanding of the leadership potential that people with intellectual and developmental disabilities have," Schuffert said.
The community got behind the project in a big way! Champions including individual artists and the Smithers Art Museum got involved and shone a spotlight on the work.
In February, Schuffert and fellow members of the Smithers community hosted a closing celebration for the project, where the Shine Together song made its public debut! Listen to the inspiring music:
Their inclusive spirit is extending past the art projects. Schuffert and friends recently organized community members with and without intellectual disabilities to meet up for a snowshoeing session!
Read more in his 2023 Global Athlete Congress Profile
Learn more about the 2023 Special Olympics Global Athlete Congress