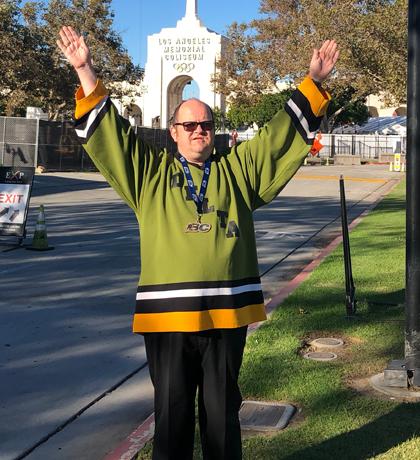 Special Olympics BC – Delta athlete Nick Johnston loves competing as part of a team.
Johnston has been an SOBC athlete for more than 10 years, and he currently plays floor hockey and soccer.
"I like those sports because they are team sports and they give me an opportunity to compete with a group," he says.
Johnston is looking forward to competing with his floor hockey squad in this month's 2019 Special Olympics BC Winter Games in Greater Vernon. A few weeks ago, the SOBC – Delta team played a friendly scrimmage with Delta Police Department members, and Johnston said it was a great way for his team to prepare for Provincial Games.
"It was a fun game and it allowed us to see what we need to work on," he said.
Previously an SOBC – Richmond athlete, Johnston says he is especially pumped for Greater Vernon because it will be his first time competing with SOBC – Delta at Provincial Games in floor hockey.
"I'm excited to go out there and just play my best," he says.
One of Johnston's most memorable experiences with Special Olympics was competing with the SOBC – Richmond floor hockey squad at the 2011 SOBC Winter Games. In the gold-medal game, the athletes from Richmond found themselves with the lead in the final moments of the match.
"The last 30 seconds were really nerve-racking as the other team was really pushing to tie it," Johnston said.
SOBC – Richmond finished strong and won the game, and Johnston said he was very excited to win gold with his teammates.
Through their outstanding play at Provincial Games, Johnston and his team qualified to represent Team BC at the 2012 Special Olympics Canada Winter Games in St. Albert, Alberta. Johnston says walking into the Opening Ceremony at National Games was an amazing experience.
"The feeling of walking into the stadium for the first time; It was a spectacular feeling!" he said.
The Team BC floor hockey squad took home silver after losing to Saskatchewan in the final. Johnston said it was a hard-fought game and he was proud of the team's efforts.
"It was a great game and the hardest game I ever played," he said. "We gave it everything."
After the game, Johnston said he got to meet the Saskatchewan players, and he congratulated them and wished them luck at the next level.
Johnston says sportsmanship is an essential part of Special Olympics, and he does his best to reflect the values of SOBC and his team.
"It's very important to acknowledge the performance of other athletes, even when it's the opponent defeating your team," he says.
With SOBC – Delta, Johnston enjoys helping out with the Local's fundraising initiatives. Along with being opportunities to help out his Local, he likes how they allow him to catch up with other athletes.
"I enjoy these kind of events. I also enjoy the events where we go out into the community and promote Special Olympics," he says.
Each year, Johnston looks forward to taking part in the Delta leg of the Lower Mainland Law Enforcement Torch Run for SOBC.
"I love the feeling of running with that group into the police station," he says. "It allows me to get some physical training while supporting Special Olympics."
He appreciates how law enforcement members support SOBC athletes.
"It means a lot, because without their support, things like competitions may not be possible."
Outside of Special Olympics, Johnston works with his dad who is a real estate appraiser. Johnston does data research and says he like his job a lot. He also likes to volunteer in his community, and at major Special Olympics events hosted elsewhere. He travelled to Nova Scotia in 2018 and Los Angeles in 2015 to volunteer with the 2018 Special Olympics Canada Summer Games and 2015 Special Olympics World Summer Games to support his friend, SOBC – Richmond and Team BC athlete Magnus Batara.
Johnston says Special Olympics has helped him with his job and his volunteer work.
"Special Olympics has had a real positive effect. It's allowed me to be more outgoing and meet new people. I was a bit shy before I joined Special Olympics," he says.
Going forward, Johnston is hoping to do his best and make some great memories with the SOBC – Delta floor hockey team at Provincial Games in Greater Vernon.