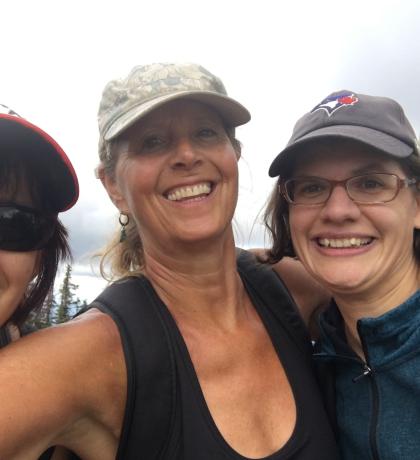 Special Olympics BC – Kelowna's Annabel Stanley enjoys the SOBC community and the constant fun it brings to her and her athletes. She understands the various challenges that people with intellectual disabilities face, and she is grateful in making a positive difference in their lives.
As the 2022 Howard Carter Award winner, Stanley cares deeply about her athletes and is passionate about their athletic development, ensuring that they perform at their best at competitions.
Stanley has been coaching cross country skiing for over a decade and has learned that it's not about winning or losing for the athletes, but it's about providing a community where athletes can become friends and be supportive of each other.
When did you start with Special Olympics, and how did you get involved?
I started with Special Olympics in 2009, when my son was 12 years old. I discovered that Special Olympics offered cross country skiing, and I thought it'd be very good for his left brain and right brain! We met Garth Vickers, who was our head coach, and we started at the end of the skiing season, just to see how it went. It went very well, so we came back the next year and Garth – in his wonderful way – already enrolled me as a coach!
What do you love about coaching?
Coaching has given me a community to enjoy with my son. It gave him a new family to be a part of. Also, Special Olympics funds people to do further coaching. So, I picked up everything that was offered to the point where I went to National Games and became the head coach for the World Games. Special Olympics has continued to train me to become a better coach.
What have you learned from coaching Special Olympics athletes?
I learned that they are the most amazing community. We are a community that loves to laugh and be treated as human beings. Many of my athletes have challenges. But challenges aside, they go out there and ski with us. It's a wonderful community.
What has been your most favorite or memorable experience at Special Olympics?
During the National Games in Newfoundland, we had one athlete who didn't win any medals. So I reached out to all the other athletes, and we made him a medal! All the athletes colored it in, and we gave it to him. He was so proud of that medal; he wore it as much as any other who had medals. It's not about the winning or losing, and they're all fully aware of that.
Why should other people get involved with Special Olympics?
They should get involved because it is a community of like-minded people. It is offering athletes a healthy lifestyle because we not only concentrate on sport, but we concentrate on cooking and eating as well. It's really fun!
Stanley is part of the Special Olympics Team BC 2024 Training Squad as a coach for alpine skiing! She is joining 50 other volunteer coaches, 134 athletes, and 14 mission staff who will work toward competing with pride at the 2024 Special Olympics Canada Winter Games in Calgary, Alberta, from February 27 to March 4, 2024.