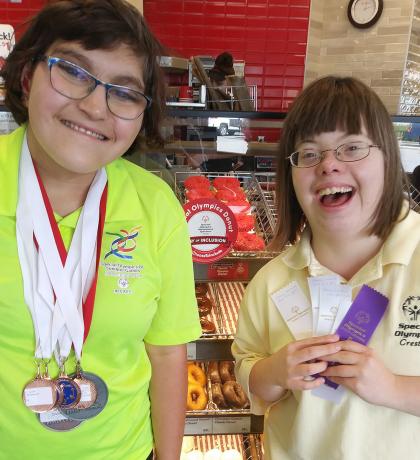 The Special Olympics Global Week of Inclusion was a celebration of how we are better together, culminating in the second annual Global Day of Inclusion on July 20. And Canadians responded in a big way.
The July week celebrated the achievements and inspiration of Special Olympics athletes. It highlighted the positive outcomes we observe when people with and without intellectual disabilities are able to work, play, and lead together. And it sought to remind everyone that we all need to keep working together to promote and ensure true inclusion in our communities. 
On the Global Day of Inclusion, Tim Hortons guests across the country raised a record $150,000 for Special Olympics athletes by purchasing a limited-edition donut, with 100 per cent of proceeds going to Special Olympics across Canada. 
Tim Hortons has gotten behind the Global Day of Inclusion for two years now, raising significant awareness and funds for Special Olympics Canada. Their nationwide efforts help empower Canadians with intellectual disabilities to experience sports, fitness, and friendship and change attitudes through year-round Special Olympics sport programs. 
The Special Olympics Day of Inclusion presence at Tim Hortons kickstarted conversations about the importance of inclusion. One Twitter user said he heard a child in line asking about inclusion, and a parent sharing why it's important to be kind and inclusive to others. 
As Special Olympics Ontario parent Melanie Côté commented on Instagram, the Global Day of Inclusion is about a special donut and so much more.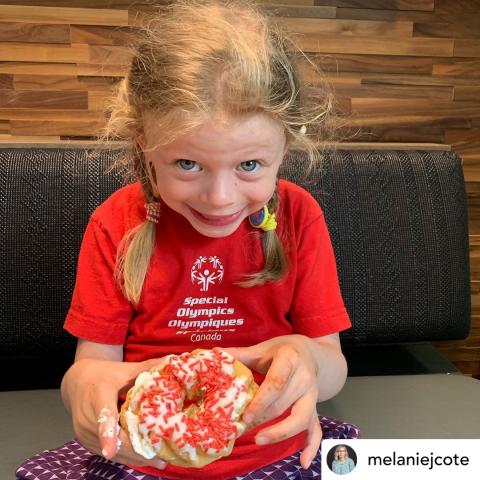 "It's a celebration of what it means to include everyone – in sport, in school, in work, and in life. Kids like Alma spend way too much time sitting on the sidelines. Together we can work to make sure everybody feels like they belong. I hope you picked up a special donut in support of Special Olympics Canada! But even more than that, I hope you remember this day the next time you see someone like my A being bullied, ignored, or left out. When you #ChooseToInclude, everybody wins."
Special Olympics BC was so fortunate to have amazing champions spread the word for inclusion throughout the week. Awareness was created by posts and comments from inspiring supporters such as retired BC Lions quarterback Travis Lulay, law enforcement members including the Vancouver Police Department, and many members of the provincial and federal governments. 
And we were so grateful to have superstar Special Olympics BC athletes and volunteers visiting Tim Hortons locations across the province to raise awareness, champion inclusion, and encourage involvement with Special Olympics. To check out B.C. photos, please click here and click here.
Many communities reported that their local Tim Hortons staff and managers really rolled out the welcome mat to celebrate and involve the athletes, such as the warm welcomes experienced in Revelstoke, Abbotsford, and Victoria. And many locations had tons of visitors who were excited to champion the cause. For example, Special Olympics BC – Richmond's busy locations included a visit from law enforcement friends who came to enjoy donuts and photo ops with athletes. SOBC – Quesnel's champion athletes and volunteers were visited by MLAs and many community members. 
With the strong support of local Tim Hortons managers, SOBC – Sunshine Coast created such a fun and engaging presence in their stores that customers asked if there was a party going on! 
"We believe that opportunities for athletes to engage with members of our community help improve understanding, tolerance and positive attitudes," PR Coordinator Helen Halet wrote. "We reached out to the Tim Hortons' branches in Sechelt and Gibsons and received an enthusiastic response from both owners and managers. They were willing to host our athletes and provide space to set up our posters and banners. They also ensured that supplies were on hand to make the special donut designed by athlete Tori Ranson. 
"Coaches and supporters connected with athletes who were still on the Coast for the summer, through email and personal contact. They organized to ensure that they arrived at the different locations dressed in uniforms and wearing the medals or ribbons they wanted to show to the public. We also set up an event on Facebook and connected with the local radio station CKAY FM. The station advertised our event and sent out one of their executives and their mobile cruiser to meet and greet the athletes. …
"In Sechelt, the owner Wendy Monosky arranged to have our athletes decorate some of the donuts. Wendy, a newcomer to the Coast, said that she learned about Special O when her children were in school, and she was so happy to be able to meet people from our group and to celebrate the cause of our athletes. She looks forward to future opportunities. 
"In Gibsons, the manager, Rochelle was pleased that we were returning to the restaurant this year because she remembered the event from last year. She even gave us a copy of the instructions on how to prepare the donut! Members of our executive stationed themselves at each restaurant and arranged to have posters, banners and flyers available for educational purposes.
"About one third of our athletes turned out to this event along with coaches, family members, friends and supporters, more than the one or two athletes originally suggested but we were glad to see the enthusiasm. We had many happy people at the end of our two-hour commitment. Many donuts were sold, pictures were taken, people were introduced to Special O and we celebrated another successful outreach into our community."
Watch Special Olympics BC athlete and Director Susan Wang with Travis Lulay, retired BC Lions quarterback and longtime SOBC ambassador, talking about the Day of Inclusion on Breakfast Television Vancouver
Watch Susan and Olympian Roz Groenewoud talking sport and inclusion with CTV Morning Live
This year's Tim Hortons Special Olympics donut was created by 26-year-old Ontario athlete Tori Ranson. She said, "Through Special Olympics I have made lots of friends over the last 12 years. I was excited to see people eating my donut – I'm glad they liked it and that we raised lots of money for Special Olympics Canada."
"We want to thank our guests and restaurant owners who came out in record numbers to support Global Day of Inclusion this year," Tim Hortons President Alex Macedo said. "We were able to raise a record amount for Special Olympics across Canada so they can continue their mission to empower children, youth and adults through the power of sport." 
Champions of inclusion and respect can join our joyful movement as athletes, coaches, volunteers, and sponsors, and can help change the world by taking the #InclusionRevolution pledge!