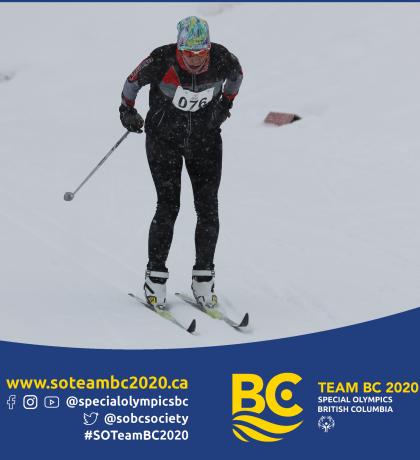 The members of the Special Olympics Team BC 2020 Training Squad have worked so hard to be at their best for the Special Olympics Canada Winter Games Thunder Bay 2020. And we are so ready to cheer them on from February 25 to 29! 
Since qualifying through their performances at the 2019 Special Olympics BC Winter Games in Greater Vernon, our provincial team athletes and coaches have been training at least three times a week for the last 10 months. They've logged countless hours of sport-specific training in their local year-round Special Olympics programs, participating in Club Fit, additional fitness and dryland training, working with sport-specific experts, and focusing on diet and nutrition. 
This is Special Olympics BC's largest-ever provincial winter team. The dedicated athletes will pursue personal bests at the Special Olympics Canada Winter Games Thunder Bay 2020 from February 25 to 29. 
Comprised of 143 athletes with intellectual disabilities, 42 volunteer coaches, and 13 mission staff from 42 communities around the province, Special Olympics Team BC 2020 is well prepared to shine on the national stage and showcase their abilities.
"I'm excited, proud, and honoured to be a part of Team BC 2020! It's a good feeling being accepted for who I am," says SOBC – Vernon snowshoer Mary Adamson. Competing at National Games is "a dream come true. It's a chance to showcase my personal best in a sport I love."
Everyone can help Team BC turn the spotlight on the abilities of Special Olympics athletes and create inclusion! How you can help open hearts and minds to the talents and achievements of individuals with intellectual disabilities:
The support means a lot to these deserving athletes, coaches, and mission staff! As Team BC curler Alexandrea Edwards says, "The best [of Special Olympics] is getting medals and that everyone cheers you on in whatever sports you do. I remember some people watched us curl in Vernon and it makes you feel excited and happy."
Edwards says individuals with intellectual disabilities of a wide range of ability levels should give our year-round Special Olympics programs a try.
"They should come out to try it out. It's where you make new friends and you work with other people. It's like a big family in a way!"