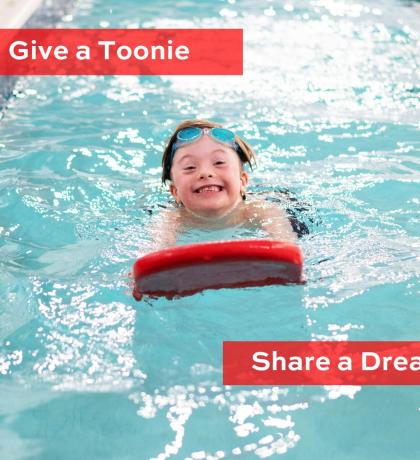 Staples Canada is supporting the dreams of Special Olympics Canada athletes through the Give a Toonie Share a Dream fundraising campaign October 21 to November 3!
Staples Canada stores across the country are raising funds and awareness to support the more than 47,500 individuals with intellectual disabilities participating in high-quality year-round Special Olympics sport programs all over Canada. Supporters can donate at their local Staples or while shopping online at www.staples.ca/shareadream.
We are very grateful to all the Staples stores, staff, and customers in B.C. for their amazing support, and to the SOBC athletes and volunteers throughout the province who give great time and energy to help make this important campaign a success!
"Supporting community is at the heart of The Working and Learning Company and we are proud to host another fundraiser in support of Special Olympics Canada in our stores," said David Boone, Chief Executive Officer, Staples Canada. "The work that Special Olympics is doing in collaboration with its local chapters transforms lives, not only by providing the health benefits of sport, but also by teaching life skills, values, discipline, socialization, and inclusion."
The face of this year's campaign is eight-year-old Levi from Huntsville, Ontario. Levi's journey with Special Olympics began three years ago with Active Start, a community program for young athletes. Levi has gained the confidence to pursue a future without limits and through Special Olympics programs, he will continue to build skills that will help him take on any challenges in sport and in life.
"On behalf of Special Olympics Canada and our 47,500 athletes, I extend sincere thanks to Staples Canada for their commitment to the Special Olympics movement," said Sharon Bollenbach, Chief Executive Officer, Special Olympics Canada. "Donations made to the Give a Toonie Share a Dream campaign support community-based sports programs across Canada, helping individuals with intellectual disabilities build the confidence to take on any challenge in sport and in life. We are excited for this year's campaign and know it will be the most successful yet!"
To learn more about the Share a Dream campaign, visit www.staples.ca/shareadream.