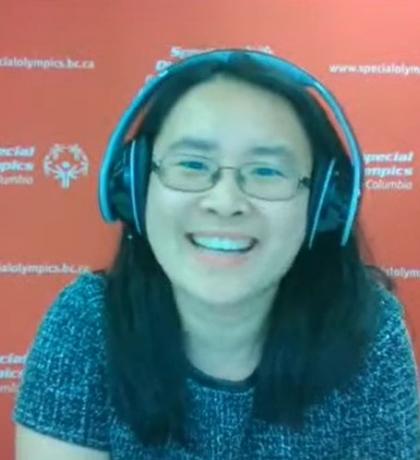 Special Olympics BC and the Canucks for Kids Fund are so grateful to everyone who chose to support the 2020 Sports Celebrities Festival presented by Wheaton Precious Metals and help change lives through the power and joy of sport!
With multiple online fundraising events from November 3 to 10, culminating in a live virtual show on November 10, the first virtual Sports Celebrities Festival raised more than $440,000 to support SOBC and the Canucks for Kids Fund. 
We are so grateful to all the 2020 Sports Celebrities Festival sponsors who did not hesitate to continue supporting us, even though the event and the broader context are so very different than past years.
Even before we knew we could hold an event, Presenting Sponsor Wheaton Precious Metals pledged to convert their sponsorship into a donation, so we knew we had their important financial support no matter what. Their generosity was unbelievably important while the pandemic wreaked havoc with finances, and we could not be more grateful for their inspiring leadership. Heartfelt thanks also to our Major Sponsors Canaccord Genuity, Macquarie Financial, and TD Bank Group, to our Event Sponsors J. Lohr Vineyards & Wines, Palladio Jewellers, and the Vancouver Canucks, and to our Media Sponsors Sportsnet 650, The Province, and the Vancouver Sun. They did not hesitate to renew their support of our charities and warmly engaged with our virtual event.
The annual highlight of the Sports Celebrities Festival is the demonstration of mutual respect and friendship between Special Olympics BC athletes and our province's top sports celebrities. While we weren't able to bring that to life on the same scale as we usually do, the genuine and inspiring engagement by this year's participating athletes made sure those important sentiments were felt throughout the event.
To the Vancouver Canucks, led by Brandon Sutter, Jay Beagle, Nate Schmidt, Thatcher Demko, Zack MacEwan, Tyler Motte, and Chris Higgins: We can't thank you enough for the heart and community spirit that you shared to make a difference for Special Olympics BC and the Canucks for Kids Fund.
Rewatch the live show:
We are so grateful for the inspiring words of Canada Soccer's John Herdman, Vancouver Whitecaps FC's Carl Valentine, and Special Olympics BC athletes Susan Wang, Bryan Jorgensen, Alexander Pang, and Matthew Williams. They so powerfully expressed the importance of sport and our charities.
We are also so grateful for the kindness, empathy, and top-quality entertainment shared by Sportsnet 650's Perry Solkowski and comedy icon Brent Butt. These consummate and big-hearted professionals were absolutely vital to the live show, and they went above and beyond to help us succeed in our first virtual event. 
As Vancouver Canucks forward Sutter said on the live show, "It's a tough year for everybody this year, but it's important to remember there are certain things that need to continue, we can't let this whole COVID thing slow us down." Sutter, Wang, and Solkowski spoke powerfully about the value of sport and Special Olympics on the show.
In Special Olympics, Wang said, "I made so many new friends and connected with so many people. Before Special Olympics, I was left out, like many people with intellectual disabilities, and that's why Special Olympics is so important, because not only do athletes have a great time competing and playing their sports, they can have a sense of belonging and know that they matter, connect with other people, and fit in."
If you weren't able to join us live, you can watch the inspiring show above, and click here to check out the messages shared by champions leading up to the SCF.
We look forward to seeing everyone again next year!
Our generous sponsors

Presenting Sponsor

Bank Sponsor
Heads and Tails Sponsor
Raffle Sponsor
Wine Sponsor

Special thanks 
Stories
2019
Watch SOBC – Victoria athlete Michael Langridge and Vancouver Canucks forward Brandon Sutter speak at the 2019 SCF.
2018
Watch SOBC – Abbotsford Athlete Reporter James Clifford team up with Vancouver Canucks forward Brandon Sutter to cover all the action for Canucks TV:
Breakfast Television Vancouver
2017
Inspiring speeches by Special Olympics athlete Alex Pang and Vancouver Canucks forward Brandon Sutter:
Breakfast Television Vancouver
2016
Frances Collison and Brandon Sutter wowing the crowd:
Breakfast Television Vancouver
2015
Canucks TV:
Breakfast Television Vancouver
2014
Canucks TV:
2013
Watch Chris Higgins and SOBC – Campbell River athlete Bryan Jorgensen speak at the 2013 SCF: