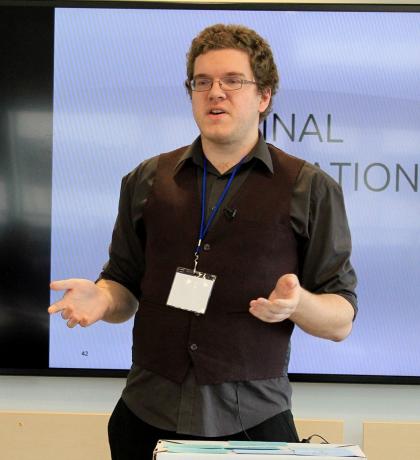 The Canadian Athlete Leadership Council is looking for more feedback from athletes regarding how Special Olympics Canada can continue to improve and grow.
Special Olympics BC – Comox Valley athlete Jake Hooper is B.C.'s representative on the Special Olympics Canada Athlete Leadership Council, as well as a member of the North American Leadership Council. The CALC has been asked to consider four questions for their next meeting, and Hooper would like to be able to include feedback from as many SOBC athletes as possible, in order to help make the perspectives of B.C. athletes heard and counted in national discussions.
Please consider the following questions, and please send any replies by November 27 to Jake's sister Caitlin Hooper at c.hoop89@hotmail.com
Are there some things that have gotten in the way of you being able to participate in a particular sport? Some examples could be: too much money, don't have the right equipment, don't have access to transportation to get there.
Do you participate in any sports through a Provincial/Territorial Sport Association (example: Badminton Ontario) and not a Special Olympics program? If so, which ones?
If we were able to introduce some new sports in the coming years, which of the following would you most want to try?
Pick as many as you'd like: Badminton, Cricket Cycling, Equestrian, Floorball, Artistic Gymnastics, Handball, Judo, Kayaking, Netball, Roller Skating, Open Water Swimming, Sailing, Snowboarding, Table Tennis, Tennis, Triathlon, Volleyball.
Is there anything we could be doing to promote/advertise our sports better in order to get more/new athletes participating?
Remember, Special Olympics North America athletes are also invited to provide feedback that will inform the next Special Olympics International Strategic Plan for 2021-2025. Please click here to find the SONA survey, which needs to be completed by December 1. Feedback from athletes is critical to create a strong plan, and your time and input are appreciated!
"With your help on this survey, we can make all the difference to this amazing organization! Help us continue making Special Olympics even bigger than it already is, even more special to all of us," Jake Hooper says.