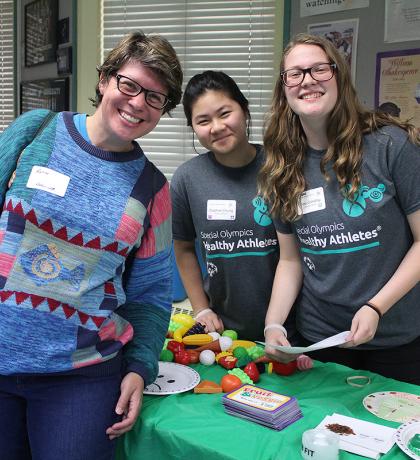 In 2016, Special Olympics BC won a three-year Special Olympics Healthy Communities grant funded by the Golisano Foundation. Seeking to tackle the health crisis faced by individuals with intellectual disabilities, who are still far too often forgotten and left behind by our health system, the purpose of the funding was to undertake or expand SOBC's year-round health initiatives in order to ensure improved access to health care and prevention programming.
In 2019, SOBC received the official plaque and recognition that we achieved Special Olympics Healthy Community status! Special Olympics Programs receive Healthy Community recognition when they achieve a significant level of effort and success in creating year-round access to quality health care and health and wellness initiatives for people with intellectual disabilities. Through health programs, partnerships, and Special Olympics athlete leadership, we are paving the way for inclusive health.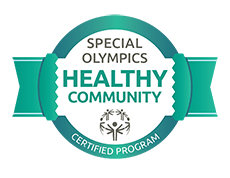 This milestone for Special Olympics BC was made possible by the dedicated efforts of many volunteers throughout the province, including the many coaches and volunteers in all Locals who champion health and make health programs possible, and of the many volunteer health practitioners and students who give their time to Special Olympics BC and our Healthy Athletes screenings. 
And this milestone is a testament to the dedication that many SOBC athletes have developed to healthy living and making positive health changes in their lives. You should all feel very proud that you are so committed to making your lives and your communities better through improved health and communication. And you should keep it up! :)
The Golisano Foundation Healthy Community grant allowed Special Olympics BC to launch or expand the following influential health initiatives.
We increased the number of Healthy Athletes screenings delivered around the province, and achieved a significant focus on helping athletes secure the followup care they need.
We launched Health Heroes and Health Messenger training, and SOBC – Victoria athlete Jennifer Ferrier became a Special Olympics Global Health Messenger. B.C. now has a cohort of 44 health advocates who spread the word about these important issues to fellow athletes and throughout their communities.  
We expanded Club Fit programming to help athletes elevate their overall fitness, which benefits them both for their sport performance and throughout their whole lives. In 2018, 762 SOBC athletes participated in Club Fit, thanks to the dedication of Locals and efforts of the fabulous Club Fit facilitators.
We created the Fit Families & Friends program to help athletes stay active in the summer in a fun environment alongside peers and supporters. Locals around the province have done a great job of offering and building this program, and participants have been having tons of fun staying active and meeting health goals together. This summer, a dozen communities around the province offered successful and fun programs.
To tackle the misunderstandings and difficulties that individuals with intellectual disabilities often face in a dental office, we worked with dental hygienists to develop a free online course called Lifelong Smiles for Individuals with Intellectual Disabilities, which is being delivered by the Canadian Dental Hygienists Association to help hygienists learn how best to help their patients with intellectual disabilities. To date, more than 1,280 hygienists have taken the course.
We initiated the creation of the Champions for Inclusive Health Stakeholder Coalition that is dedicated to changing the course of the health crisis faced by individuals with intellectual disabilities. Comprised of a broad range of important stakeholders, the coalition has agreed on a mission to end the harm and unequal conditions experienced by individuals with intellectual disabilities in B.C., and establish impactful resources, expertise, and best practices that can encourage other jurisdictions to follow B.C.'s lead. 
We presented the Golisano Health Leadership Award to deserving Healthy Athletes volunteers Pam Kiselbach (B.C. Health Promotion Clinical Director), Brad McDougall (B.C. Opening Eyes Clinical Director), and Carol Yakiwchuk (B.C. Special Smiles Clinical Director and lead creator of the Lifelong Smiles for Individuals with Intellectual Disabilities course).
We worked with partners including LifeLabs and Sobeys to run Healthy Athletes screenings and expand health information delivery. 
We ran Family Health Forums to share more health education around the province.
Huge thanks to the Golisano Foundation and to all of SOBC's provincial partners, led by the Government of British Columbia, the Government of Canada, and Westminster Savings, who help make our vital ongoing health work possible. Sincere thanks also to all the volunteers and athletes throughout the province who achieved this milestone recognition! 
Let's all keep up the important work together to ensure individuals with intellectual disabilities have the same opportunity to be healthy as everyone else!