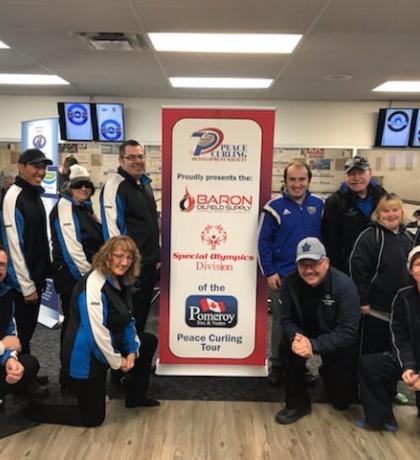 In year-round Special Olympics BC programs, athletes with intellectual disabilities develop vital skills, confidence, and friendships that help them succeed in sports and throughout their lives. It's exciting to watch when Special Olympics BC athletes get opportunities to use these abilities to succeed in mainstream sport settings.
An amazing new example is the Pomeroy Inn & Suites Peace Curling Tour opening its arms to welcome Special Olympics BC athletes this winter. The Peace Curling Tour is giving SOBC athletes the opportunity to compete in a new Special Olympics division and show their skills alongside a wide range of mainstream curlers, opening eyes to their abilities. 
With its traditional Competitive, Challenge, and Junior divisions, the Peace Curling Tour has offered high-quality competitive action for a wide range of curling teams over the last decade. The competitive division boasts the region's top teams, who compete at the provincial level; the challenge side offers opportunities for competitive junior, senior, and developing teams; the junior division attracts players ages six to 16 who are learning the game. 
SOBC – Dawson Creek curling coach Mark Heartt has played in the Peace Curling Tour every year since its inception, and this year he approach Colin Griffith, a founding member of the tour and its President and visionary, about adding a Special Olympics division.
"Colin said, 'Absolutely!' Colin has been a huge supporter of this concept," Heartt said in an email. "This gives our Special Olympics athletes a chance to not only play against their peers but to be part of the sport of curling in general. They are joining the best curlers in the Peace Country and we are very excited they will have this wonderful opportunity."
"Our Pomeroy Inn & Suites Peace Curling Tour is renowned for being inclusive and open to curlers and fans of all ages, genders, and skill levels. We are extremely pleased to add to our inclusiveness by unveiling the Special Olympics Division of the Tour sponsored by Baron Oilfield Supply," Griffith said.
The SOBC – Dawson Creek Tornadoes and the SOBC – Fort St. John Lightning have played with pride in the tour stops in Dawson Creek on November 24 and Fort St. John on December 8. They will next hit the ice in the Tour Championship January 10-12, 2020, in Sexsmith, Alberta, where they will also face off against two Special Olympics Alberta teams from Grande Prairie. 
"I thought it was really good. I was happy we were included, and they welcomed us with open arms. It was a good experience for us and for people to see who are," SOBC – Dawson Creek curler David Johnston said. 
Johnston said the Special Olympics teams felt right at home in the Peace Curling Tour. 
"I thought we were all playing together as equals, we're all peers, and it was a really fun tournament. We all enjoyed it, and we hope to do more tournaments like that," he said. The other curlers have been very supportive. At the first stop in Dawson Creek, he said, "They all came up and wished us luck. They were excited we were competing in the tour for the first time."
The SOBC – Dawson Creek Tornadoes team members are:
David Johnston
Lisa Perry
David Leechman
Darra Watson
Head Coach Mark Heartt
Coach Leanne Lacey
(Johnston and Tornadoes teammate Lisa Perry are also members of the Special Olympics Team BC 2020 Training Squad in 5-pin bowling, while Heartt is a Team BC 2020 curling coach. "We're looking forward to going to Nationals and trying our best," Johnston says.)
The SOBC – Fort St. John Lightning team members are:
Levy Fowler
Paul Brooks
Vaughn Isenbecker
Britni Renaud
Miranda Laboucane
Coaches Donna Stolk and Kim Turney
In two spiels, the Tornadoes racked up 11 points while the Lightning earned eight. Both teams have been playing well, having fun, and showing their skills. Not only are the athletes raising awareness about their abilities, they are also gaining access to important new competition opportunities that are not always easy to generate in the region. 
Johnston hopes the Peace Curling Tour's example of inclusion will inspire others to be inclusive too.
"To compete like that, it means to me that we are being accepted for who we are, and that they get to know about Special Olympics, to see what we are and see what we are capable of doing … [We are] being seen in the community and being part of the community," Johnston wrote in an email. 
Big thanks go out to Griffith and the Peace Curling Foundation Board for embracing, creating, and promoting this opportunity for Special Olympics athletes to shine! 
"I would like to say thank you to the Peace Curling Tour for letting Special Olympics athletes join this tour. I also would like to thank all the coaches and volunteers taking time out to coach and volunteer for Special Olympics – without you, we would not be able to do the sports we do," Johnston wrote. 
These are just a few of the examples of sport inclusion around the province. It's a thrill to watch SOBC – Kelowna cross country skier Francis Stanley shine in the Teck BC Cup race circuit! Stanley has been warmly welcomed by the high-performance skiers in Telemark Nordic Club as a training peer, and last season he achieved third place overall in the Teck BC Cup season standings in the Open Men division (ages 20 to 29). He's back at it again this season, having kicked off the BC Cup season already with great races at Sovereign Lake Nordic Club and at Larch Hills, while he's also training very hard as a member of the Special Olympics Team BC 2020 Squad.
In addition to these important competitive opportunities, there are a number of mainstream sport leagues that now welcome Special Olympics athletes into the mix for additional training opportunities. SOBC is working to help coaches equip all athletes with the basic skills they need to feel successful in any generic setting – please click here to read more about the Basic Skills Acquisition packages that have been created for SOBC coaches in all 18 sports.
Johnston also credits the SOBC – Dawson Creek Club Fit program with helping him and Perry: "Club Fit helps us to be more competitive in our sports, and it got us to where we are."
Sport is a powerful force for empowerment of athletes, and for opening hearts and minds to the abilities of individuals with intellectual disabilities. It's the place where athletes with and without disabilities can come together in mutual respect and admiration.
In many communities around our province, athletes and community members without disabilities reach out to Special Olympics athletes to come together in the true joy of sport. Here are a few photos with recent examples of amazing inclusive moments happening through sport around the province: 
SOBC – Prince George has had visits from the PG Cougars and their great friends on the UNBC basketball and soccer teams
SOBC – Trail regularly has games with a wide range of community supporters, including the Beaver Valley Nitehawks and the Trail Smoke Eaters - check out their Facebook feed!
A Coquitlam Minor Hockey Association parent initiated an inclusive sport event that brought together the youth team and SOBC – Coquitlam athletes for an evening of sport and fun that highlighted their similarities instead of their differences
The Richmond Firefighters Association got together with SOBC – Richmond athletes for their second annual basketball game night, creating awareness and community spirit
And much more around the province! Kudos to all the SOBC Locals who have amazing connections with community athletes and supporters that foster inclusion and respect for Special Olympics athletes!