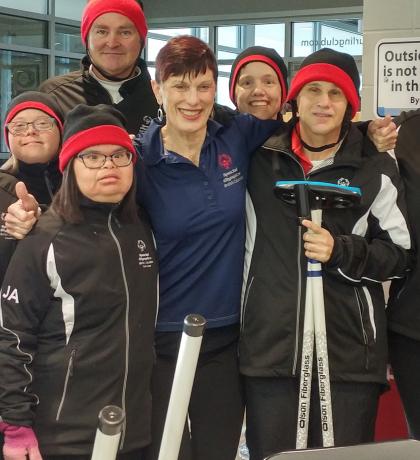 For 42 years, Marilyn McLean has been making a difference as a Special Olympics BC volunteer, pioneer, and champion. Now, the SOBC – Kamloops icon is the deserving winner of the Canada Volunteer Awards Therese Casgrain Lifelong Achievement Award!
The national Thérèse Casgrain Lifelong Achievement Award is presented by the Canada's Volunteer Awards program to an individual who has made exceptional achievements through volunteering for at least 20 years.
McLean played a vital part in starting the Special Olympics movement in B.C., as a member of the founding Board of Directors. Over four decades, through a wide range of local, regional, and provincial roles, McLean has been vital in helping the organization grow to serve more athletes with intellectual disabilities and providing ever more opportunities. In addition to McLean's provincial leadership, she helped established the SOBC – Kamloops Local, and is a member of the SOBC Hall of Fame as a Local Builder.
"I have had the great opportunity and pleasure to work with Marilyn for over 40 years in support of Special Olympics BC, and have personally witnessed the time, energy, skills, resources, and commitment that she has given so generously to the Society," says SOBC President Dan Howe. "Marilyn is a key figure in SOBC's history and one who has always lived her sincere commitment to the mission of this organization. She has worn many hats over the years since she helped found Special Olympics BC and the SOBC – Kamloops Local, and she is tireless and admirable in her ongoing efforts to ensure opportunities for athletes."
McLean's dedication and heart for athletes have been shown in many ways throughout her decades of involvement with SOBC, ensuring that they get to experience the power of friendship and inclusion through sport. From driving athletes to events, to organizing successful tournaments, from serving in many different Local Committee roles to leading Athlete Leadership courses and jumping in to coach everything from snowshoeing to youth programs, McLean has done it all.
"She's great with us," says longtime SOBC – Kamloops athlete Marilee Manning. "Whenever I need to call her about anything, I can call her. ... She's just wonderful for us."
McLean is also an outstanding mentor for new volunteers, with a dedication to support coach training and program development to enhance athlete opportunities.
"There are many heartwarming stories about incredible athletes who participate in Special Olympics. For me, the biggest story is that Special Olympics allows us to celebrate the abilities of people who may have been defined by their disabilities," McLean said during her induction to the Kamloops Sports Hall of Fame in 2018. McLean said she had a challenge for all those who attended the ceremony.
"I want you to make an effort to see the abilities of the people you come in contact with. I guarantee that your life will be richer for it."
McLean deeply cares for individuals with intellectual disabilities, and we cannot thank her enough for the lasting impact she has made.
Congratulations to Marilyn and all the other deserving award winners from Canada's Volunteer Awards program! Watch the ceremony on December 5 at 2 p.m. PT:
Canada's Volunteer Awards ceremony
December 5 is International Volunteer Day – when we will celebrate and thank Marilyn and the thousands of Special Olympics BC volunteers who give their time, skills, and heart to change lives and create inclusion in communities throughout the province!
Join them in changing lives, including your own!