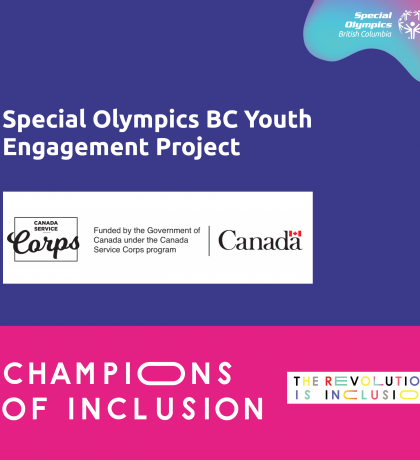 Young changemakers raised awareness and improved lives across the province during the 2020-21 Special Olympics BC Youth Engagement Project. With support from the Government of Canada under the Canada Service Corps Program, participants aged 16-29 created inspiring projects and ran initiatives to benefit the lives of people with intellectual disabilities in British Columbia.
Volunteers created resources, provided support, and raised awareness with their inspiring initiatives, themed around health, fitness, nutrition, mental performance, and inclusion.
The participants in the 2020-21 Youth Engagement Project were:
Ivneet Lidder and Kabir Dhaliwal, Abbotsford
Daniel McClement, Vancouver
Pavneet Kalsi, Surrey/Vancouver
Emily Hoppe, Nanaimo
Bremiella De Guzman, Surrey
Ysabelle Tumaneng, North Vancouver
Geraldine Hernandez, Vancouver
Nathan Burns, Chilliwack
Nicolette Rodriguez, Penticton
Ronak Sheikhi, Nanaimo
Michel and Pierre Collet, Vancouver
Daniel McClement said the Youth Engagement Project was an opportunity for him to learn more about leadership and project management, apply creativity, and be self-directed, all while improving the lives of people with intellectual disabilities.
McClement's project, SOBC Chefs, was designed to teach participants how to make healthier food choices, prepare meals for themselves, and gain the necessary skills to follow a healthy diet, all in a fun and interactive way. 
"Our goal was to make an engaging, COVID-friendly culinary course accessible for people with intellectual disabilities," he said.
Participants received a meal-kit delivery, complete with instructional videos, recipes, and ingredients to prepare healthy and affordable meals. 
"It was a fun activity for the athletes. It was great seeing their smiling faces when they received their boxes. I think it was a unique experience for them," he said.
McClement said the project was also well received by family members who were excited to see their loved ones gain independence and discover healthy food choices, while learning important culinary skills.
Please click here to check out his resources
Kabir Dhaliwal and Ivneet Lidder teamed up for their project, SOBC Virtual Camp, which included tutorials on basketball skills, bodyweight exercises, and nutrition through a series of eight videos. 
"It was great to help individuals that had to stay indoors due to the pandemic, and it was exciting to offer them a new learning opportunity," Lidder said.
Participating in the project provided Dhaliwal with an opportunity to learn more about Special Olympics BC and the impact the organization has within the community. 
"I believe Special Olympics is an organization that truly cares about its athletes and community," said Dhaliwal. "I was honestly surprised to find out how much planning and (Special Olympics) events were going on within just my own community … which motivated me to work even harder," he said. 
Please click here to check out their videos
Another participant, Emily Hoppe, teamed up with Mental Performance Consultant Geoff Hackett from PacificSport Vancouver Island to offer a virtual event about mental training. Fundamental Movements and Mental Training was designed for athletes, coaches, parents, students, and teachers. Her project's aim was to offer "learning about what mental performance is, understanding mental and physical health, knowing your body and its emotions, thoughts and actions, and developing specific mental tools to help performance in sport and daily life."  
Hoppe's project also featured a series of videos about training fundamental movements. 
Please click here to check out her videos
The 2020-21 Youth Engagement Project also provided an opportunity for participants to address the need for greater inclusion and respect for people with intellectual disabilities in communities across B.C.  
Dhaliwal said one of the goals with their project was to "break barriers and help spread the message that nothing is impossible if you put your mind to it. We must set the foundation of allowing inclusivity so every athlete can have the potential to succeed rather than feeling left out," he added.
"Inclusion is important because it gives everyone a sense of belonging whether it's in a community, organization, or the world around us in general. With inclusion we can help one another to become stronger, and we can learn a lot more from each other," Lidder said.
One common feature of this year's Youth Engagement Project was the shared goal of improving the lives of people with intellectual disabilities in B.C., and each project made a positive impact in its community.
"Special Olympics is a critical part of many athletes' social lives. ... It's not just about sport, it's about building a welcoming community for people with intellectual disabilities, and I can't think of any organization which has been as impactful as Special Olympics in this regard," McClement said.
McClement, who has a cousin with an intellectual disability, has witnessed first-hand how beneficial Special Olympics has been for her. "It's given her goals to work towards, a sense of accomplishment, as well as meaningful relationships with her athletes and coaches."
McClement encourages anyone interested in getting involved with Special Olympics BC to consider volunteer opportunities within the organization.
"I'd also encourage other people who may be thinking about getting involved with Special Olympics to try it out! You don't need to personally know someone with an intellectual disability or be an expert to start making a positive impact on this community," McClement said.
Congratulations to all the Special Olympics BC's Youth Engagement Project volunteers who created inspiring initiatives to help SOBC athletes and their communities.
Special thanks to the Government of Canada under the Canada Service Corps Program whose support made this program possible.
Please click here to check out all the projects and resources