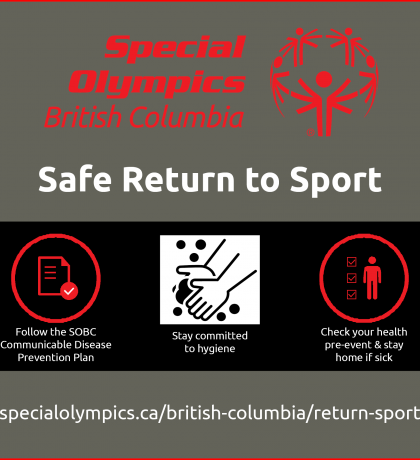 In order to maintain a safe environment, the COVID-19 vaccination requirement remains in place for all Special Olympics BC programs and competitions for the rest of this program year (ending June 30, 2022). 
We are committed to keeping our community safe, especially because we know that some of our community members are more at risk from COVID-19. Many rely on SOBC to provide a safe environment at programs, in order to return to the sports they love. 
Based on community feedback, Special Olympics BC has taken a slow, phased, and safety-focused approach throughout the pandemic. With many things changing around all of us at this time, we are staying the course with the cautious approach for a little longer, to prioritize safety. This will also minimize the demands on the hardworking SOBC volunteers who have had to figure out all operational processes for this season based on the Government of B.C.'s original requirements.
Vaccination requirements will be revisited again in summer 2022. 
Anyone who has been granted a medical exemption through the provincial medical system should please show proof of that exemption to participate in SOBC programs and competitions.
For SOBC fundraising and awareness events that involve non-members, COVID-19 vaccination will no longer be required starting April 8. We cannot guarantee that non-members are vaccinated, but registered SOBC athletes and volunteers in attendance will be required to show proof of COVID-19 vaccination. SOBC's other strong safety protocols will remain in place at those events. 
We are so grateful to all members for their commitment to safety and to showing respect for others and their choices.
Full SOBC Communicable Disease Prevention Plan
Reminder of current standards for masks:
It is recommended (but not required) for all participants ages 5 and up to wear masks at SOBC events and programs when they aren't playing their sports.
Participants ages 5 and up must still wear masks during group transportation to SOBC programs and events (e.g. rented buses). 
If a facility requires mask wearing while off the field of play, that rule must be followed.
Reminders of other SOBC Communicable Disease Prevention Plan highlights:
If you are sick, do not attend your SOBC program/event.
Wash or sanitize hands when entering and exiting the venue, and often during the program/event.
Cover coughs and sneezes with your sleeve. Avoid touching your face with your hands.
Bring your own filled water bottles whenever possible.
Continue practicing physical distancing when it's helpful to you.
These decisions continue to be reached after consultation with Special Olympics community members and sport, health, and legal experts. We value your ongoing feedback and welcome it at any time. Thank you so much for your life-changing efforts and commitment to Special Olympics BC athletes and programs.