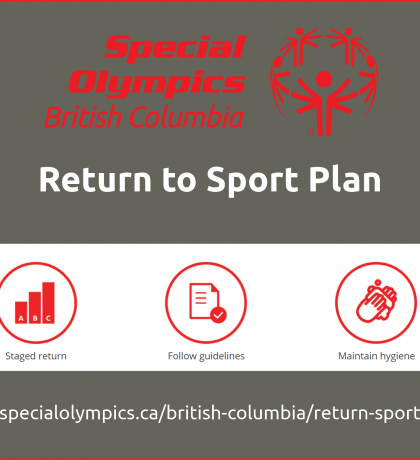 May's announcement from the provincial government made it very clear: Better times are ahead, and everyone's efforts to follow health restrictions and help keep everyone safe have made a difference! Thank you!
Currently, there is a positive overall outlook, and a vision for the big picture. On May 28, Special Olympics BC and the provincial sport sector received some clarifications on what is allowed in group sport training, both immediately and in the next phases to come.
Right now, the province is in Step 1 of B.C.'s Restart. Our expectation is that when the province officially enters Step 2 of B.C.'s Restart, Special Olympics BC will do the following: 
Move all sports (except powerlifting) to SOBC's Return to Sport Level 2, with outdoor and indoor group sizes following the provincial requirements; 
Reopen indoor Club Fit in accordance with provincial requirements for group sizes; and
Reopen powerlifting at SOBC's Return to Sport Level 1.
Please click here to see the Program Progressions chart for a high-level look at SOBC's Level 2 and all phases. (This chart has been updated to reflect the current realities and outlook.) 
Find all SOBC Return to Sport resources
Special Olympics BC Level 2 highlights include:
Group sizes
Outdoor sport training (all ages) will be able to take place with a group of up to 20 people. All groups must have a ratio of 1 coach to up to 4 athletes. Each group must include a Program Safety Volunteer responsible for making sure that COVID-19 protocols are followed.
The indoor sport training group sizes will remain the same as the current SOBC Return to Sport conditions: For indoor sport training, adult and mixed-age indoor sport activities can have a maximum of 1 athlete with 1 coach. 
Sports that are traditionally held indoors can consider operating outdoors to allow more participants.
Youth indoors: Programs where the participants are all 21 and under can continue to have a maximum of 9 athletes and 3 coaches (12 participants total). There must be at minimum a 3:1 athlete-to-coach ratio. 
If your program has both youth and adults, you must continue to follow the requirements for adult activities.
Masks
Masks are still required indoors. 
For outdoor activities, masks will continue to be required when 3 metres of physical distancing can't be maintained, and participants should be encouraged to wear masks whenever possible.
Physical distancing and hand hygiene
OUTDOORS: Practice physical distancing of 2 metres on and off the fields of play.
INDOORS: Continue practicing physical distancing of:
3 metres/10 feet during training, or 
2 metres/6 feet when entering and leaving facilities. 
Continue practicing strong hand hygiene.
Travel
No travel for sports and training outside of your home community, or your home program.
Sport and operations 
Athletes and volunteers will not be restricted to participating in only one SOBC program at a time. However, all Locals will want to make sure that all interested participants – including those on waiting lists – have a spot in a program before giving one participant the chance to be in multiple sports at once.
Game play will be permitted as long as participants maintain 3 metres of physical distancing throughout. For some sports, this will be easy; for others, we realize coaches and athletes will need to get creative. We appreciate and applaud everyone's flexibility and commitment to ensuring safety! 
No spectators will be permitted at this time. 
We will let everyone know when Special Olympics BC moves to Level 2. 
Right now we wanted to let you know what is coming, so that anyone who would like to offer a program in the summer can start thinking about what they can do in Level 2 and preparing to submit the Return to Sport Program Application.
The Return to Sport Program Application must be submitted to a Local's Community Development Coordinator and receive approval prior to reopening any program. 
In the coming weeks, you'll notice that Special Olympics BC's Return to Sport approach will remain slow, careful, and focused on the safety of all our members. Recent Special Olympics North America surveys have shown that a significant percentage of athletes are not completely comfortable returning to in-person sports yet. We want to continue to prioritize offering a safe and welcoming environment in all Special Olympics programs, so that everyone who wants to return to sport can feel confident and comfortable doing so. Our safe, staged approach to returning to sport will continue through the coming weeks and months. 
Right now, any Locals that would like to offer small in-person training opportunities, including Provincial Challenge Games training group activities, can do so following the current Return to Sport requirements. Challenge Games training groups must submit the Program Application before doing any in-person exercise activities. 
If you have any questions or feedback, please don't hesitate to email covid@specialolympics.bc.ca. 
To find all province-wide restrictions on events, social gatherings, and travel, please click here.