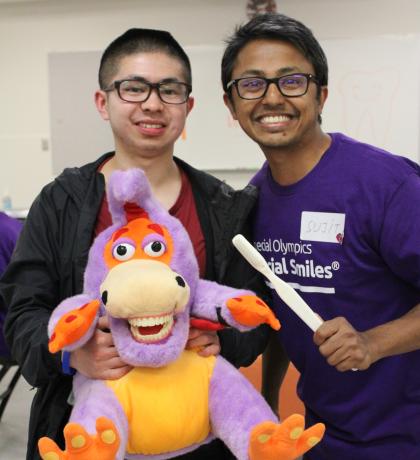 Athletes find friendships, fitness, and fun with Special Olympics BC's health programs! One of the most popular year-round health programs we offer is Club Fit. With SOBC's 43rd season of life-changing programs kicking off this fall, communities across the province are excited to be hosting Club Fit!
In Club Fit programs, athletes have fun together working out and enjoying fitness and training activities. Club Fit helps them improve their overall health and fitness, and helps them be even more successful in their traditional sport programs. 
"Club Fit has helped me by providing cardio, endurance, and other types of workouts," says SOBC – Vancouver Health Messenger and Club Fit participant Alexander Pang. "They also teach you about the importance of nutrition."
Pang is a longtime Special Olympics athlete and Health Messenger. He serves as a leader and role model to others, sharing advice and raising awareness about the importance of health.
"Being a Health Messenger allows me to help other people be more aware of their decisions when it comes to nutrition and planning out a good healthy routine that's suitable for them," Pang says.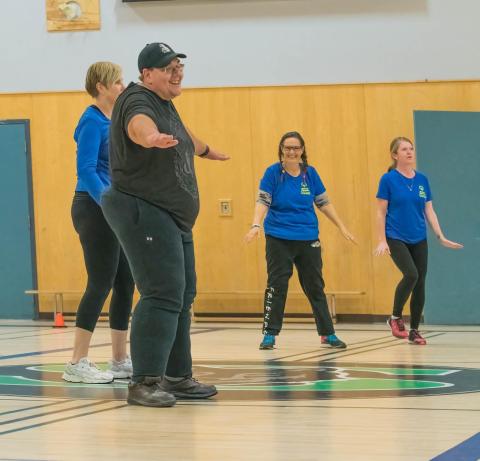 SOBC is always looking for volunteers to run Club Fit programs in communities around the province! Change lives including your own in this amazing opportunity to empower athletes with intellectual disabilities through physical activity and healthy nutrition!
Learn more and get involved with Club Fit
 
More fun with functional testing
Throughout the sport season, athletes can track their progress through SOBC's functional testing resources! 
Functional testing involves a series of exercises that test an athlete's fitness level and help motivate their training. It provides feedback to coaches on the personal progress of each athlete and identifies any improper technique that may lead to a risk of injury.
Athletes should perform functional testing under the observation of a coach, which keeps the metrics more standardized and accurate. Functional testing can be done in Club Fit programs and by sport coaches in their own programs.
Learn more and find functional testing resources
Healthy Athletes screenings share happiness and health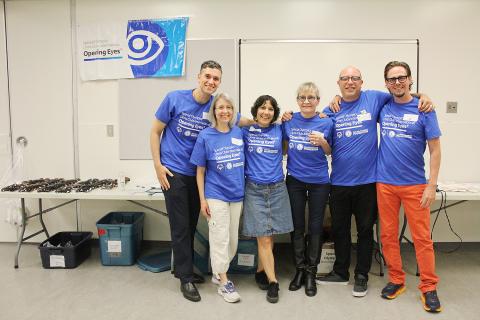 Special Olympics BC is working to end the health inequality faced by people with intellectual disabilities. One of the big issues is communication challenges between people with IDs and health practitioners who may not have received training or support to work with them and provide comfortable settings with ways to talk about and uncover issues.
At SOBC Healthy Athletes screenings, attendees participate in free, fun health screenings offered in a welcoming, supportive environment. The screenings are delivered by supportive volunteer health practitioners who have been trained to help people with intellectual disabilities identify issues, and can give referrals to necessary treatments.
On June 24, SOBC held our most recent Healthy Athletes Screening Day in Coquitlam! Individuals with intellectual disabilities were able to receive Healthy Hearing, Opening Eyes, and Special Smiles screenings, thanks to the help of many volunteers and healthcare professionals who shared helpful health information and resources. The event delivered 61 screenings to enthusiastic participants!
SOBC – Surrey athlete and Health Messenger Kayley Hendsbee is grateful for the new glasses she received for free from the Healthy Athlete Screening Day.
"The lenses alone are about $600 to $800 because I have astigmatism. It would take me almost a year to save up to buy new glasses," she says.
Having proper lenses allows Hendsbee to do everyday tasks and participate in sports without experiencing any headaches.
"It means everything to me to see properly again. I got severe headaches when reading or writing because my eyes were strained from having to focus so hard. Track and field was hard as everything seemed blurry. Now I don't have any more headaches when I read, write, or work!" Hendsbee says.
Special thanks to Clinical Directors Sharon Adelman, Dr. Brad McDougall, Dr. Ellen Wu, and all the attendees, volunteers, and supporters who helped make this event a big success.
SOBC's next Healthy Athletes screening will take place in Terrace on October 21! We are so excited for our members in Terrace as this will be their first time hosting a Healthy Athletes screening in their community!
SOBC works to offer Healthy Athletes screenings around the province when event opportunities and resources allow. In the 2023-24 program year, a major goal is to bring Healthy Athletes screenings to Regions that have not had them held locally in several years. Please stay tuned for updates and other health events coming in 2023-24!
SOBC Inclusive Health Care Provider List
SOBC often receives questions from athletes and families about recommended health care providers and who to visit for their health concerns. To help fill this gap, Special Olympics BC is developing a public list of Inclusive Health Care Providers – those with proven experience caring for, and working with, people with intellectual disabilities.
With your help, we are looking to expand this list to include health care providers across British Columbia. If you know any health practitioners who would be interested in this opportunity, please click here to suggest them for consideration. Special Olympics BC will reach out to them to ask if they would like to be included on the upcoming list.
Sincere thanks to the Government of British Columbia and the Government of Canada for their continued support of our health programs! Looking forward to healthy lifestyles, big achievements, and lasting memories in the coming season!
LEARN AND ADVOCATE WITH HEALTH MESSENGERS