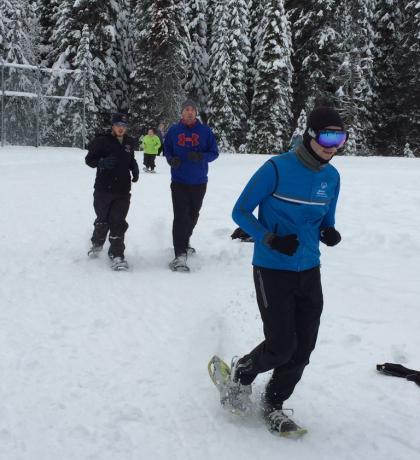 Special Olympics BC – Nelson's Bruce Walgren says the expert instruction he received at a Performance Program camp in September has helped him develop as a coach and strengthen his Local's speed skating program.
In fall 2016, SOBC athletes and coaches from across the province participated in Performance Program camps in 11 sports. Along with sport-specific training, many of these camps included presentations on nutrition and fitness and a functional testing session, which provides feedback on where athletes are in their fitness and how they can improve, helping motivate and guide training.
September's SOBC Speed Skating Performance Camp in Coquitlam saw eight coaches and 14 athletes from a number of Locals train with in-line skating expert Dallas Kurtz and former Olympic speed skater Jacques Thibault. Kurtz ran the athletes through an in-line skating session that focused on balance and technique. Later, the athletes got on the ice with Thibault who helped them apply what they had learned.
Walgren said he learned a lot from working with the world-class experts and sharing techniques and strategies with other coaches at the camp. He has since taken what he has learned and used it to further improve SOBC – Nelson's speed skating program.
"We learned different ways to teach the same ideas — and that is huge!" Walgren said. "With all the different ideas that came out, it was very good."
SOBC's Performance Program is a long-term plan with the goal of enhancing the skills and performance of all coaches and through them, all SOBC athletes. At Performance Program camps, participating athletes and coaches learn new training techniques and skills they can share with their local program, benefiting all athletes.
Walgren attended the Performance Program camp in Coquitlam with his son Ian, who is a speed skater with SOBC – Nelson. Walgren said the camp was a lot of fun for athletes, and Ian made many new friends that share his interest in speed skating. Walgren said the camp had an encouraging atmosphere, which has motivated Ian to train even harder. As a result, Ian has recently achieved many personal bests.
"The improvements for Ian were huge," Walgren said.
Also in September, 23 coaches and 28 athletes attended an SOBC Athletics Performance Camp in Burnaby. The event saw SOBC – Burnaby athletics coach Selina Byer, BC Athletics shot put official Rose Hare, and track athletes and coaches from the University of British Columbia and Simon Fraser University run drills for different athletics events and help familiarize coaches with events that are new to SOBC. Big thanks to the St. Thomas More Collegiate students who helped out with the functional testing session at the camp and the SOBC Healthy Athletes Screening Day that took place on the same weekend.
Sixteen coaches and 13 athletes worked to elevate their performance at October's Aquatics Performance Camp in Burnaby. The camp featured an expert for each stroke and a valuable feedback session for athletes on technique. We are grateful to Swimming Canada official Barry Parish, former SOBC coach Heather Young, and members of the SFU swim team for making this event a success.
Basketball BC's Kelsey Blair, former national women's soccer team player Randee Hermus, Softball BC's Susan Hokanson, and SOBC – Comox Valley floor hockey coach Randy James provided excellent instruction at November's Team Sport Performance Camp in Coquitlam. The experts led 25 coaches in sport-specific drills, and the camp also featured information on planning practices.
Twenty-three coaches and 35 athletes attended the Snow Sports Performance Camp at Sun Peaks Resort in December. The camp included training sessions for alpine skiing, cross country skiing, and snowshoeing. Thanks to Elia Ganderski and Phil Youwe from Adaptive Sports at Sun Peaks and Jacques Thibault for sharing their expertise at the camp.
December also saw a SOBC Curling Performance Camp in Coquitlam. At the camp, Curl BC coach Claudelle Hildenbrandt and the Coquitlam Curling Club's Dave Parsons led the 11 coaches and seven athletes in drills that emphasised proper delivery and sweeping techniques.
The 2016-17 sport season will see SOBC athletes and coaches take part in Performance Program camps in all 18 SOBC sports. January will include camps in alpine skiing, cross country skiing, powerlifting, and speed skating. Stay tuned for details on other camps!
Significant support from the Government of Canada, a $20,000 grant from RBC Foundation, and the ongoing generosity of SOBC's provincial partners help make the Performance Program opportunities possible.