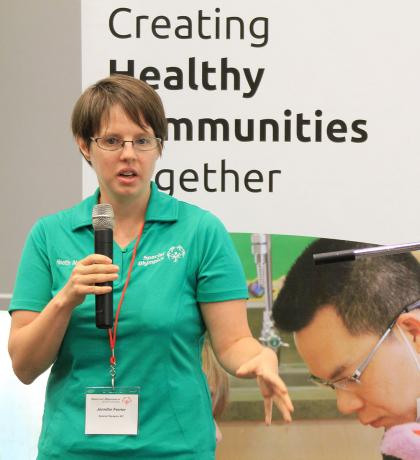 Eliminating the health disparities between people with intellectual disabilities and the general population is both complicated and a massive challenge.
Special Olympics BC set out to tackle that challenge when it hosted the Champions of Inclusive Health Summit in Surrey in October 2018.
The event attracted more than 70 stakeholders, including representatives from NGOs, community groups, government, parks and recreation, researchers, school boards, and SOBC athletes with the goal of advancing health outcomes for individuals with intellectual disabilities across the province.
Dan Howe, Special Olympics BC President & CEO, said it is going to take a collective effort by to make significant improvements in health and well being of people with intellectual disabilities.
"It is not one that government, Special Olympics, or any other body can do on its own. We must work together and build resources, opportunities, awareness, and knowledge if we are to be successful," Howe said.
Scott Howe of Howe International Consulting led off the event highlighting the daunting challenges faced by people with intellectual disabilities. Mental health, nutrition and obesity, sexual health, and the use of medications are all areas that need to address if the lives of people with intellectual disabilities are going to improve, he said.
Some of the challenges include:
Adults with intellectual disabilities and mental illness or addiction are 1.66 times more likely to be readmitted to the hospital within 30 days and 1.33 times more likely to return to emergency services within 30 days compared to individuals with only a mental illness or addiction.
By analysing the Ontario Drugs Benefits claims database, researchers found that 50 per cent of individuals with intellectual disabilities are dispensed multiple medications concurrently, with 22 per cent being administered five or more simultaneously.
Of individuals prescribed five or more

medications

concurrently, 32 per cent did not have regular follow-up visits with the same physician.
Individuals with intellectual disabilities are seven times more likely to be the victims of sexual abuse. Individuals with ID are also less active than the general population.
It is estimated that only 13.5 per cent of adults with ID meet the recommended daily physical activity guidelines, while 50 per cent report more than four hours of screen time per day.
Twenty-six per cent of psychiatric diagnosis' were classified as 'severe' in individuals with intellectual disabilities, compared to only eight per cent in those with a psychiatric diagnosis but no ID.
Individuals with intellectual disabilities experience obesity rates two-to-three times that of the general population.
Poor nutrition is common, with only seven per cent of individuals with intellectual disabilities eating a balanced diet.
Time and resources are always a factor, said Scott Howe. He said part of the solution is putting programs in place early, so people with ID start eating right and being active at a young age and keeping them engaged throughout their life.
Special Olympics BC – Victoria's Jennifer Ferrier, a certified Special Olympics Health Messenger, shared her experiences as an athlete and the challenges she sees. She said all too often she noticed other athletes using sports outings as a chance to visit the concessions stand. Ferrier said she's taken upon herself to avoid unhealthy snacks and replace with more nutritional options, as well as to try to encourage her teammates to do the same. When it comes to following up on her health care, Ferrier said those in the medical profession need to do a better job in communicating with patients who have an intellectual disabilities. While she said she is fortunate her doctor treats her with respect, she knows that's not always the case.
"My doctor treats me like a human being, not like I am a five-year-old," Ferrier said. "Even if I have a family member there with me, my doctor takes the time to speak to me, instead of treating me like I wasn't there."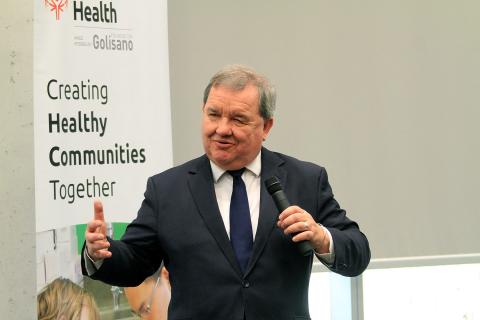 Vancouver-Hastings MLA Shane Simpson, B.C's Minister of Social Development and Poverty Reduction, said opening the lines of communication is going to be critical if any improvements in the overall health of people with intellectual disabilities.
Simpson said the challenge is getting all the groups to the table and determining a list of priorities that will ultimately provide results. He said the summit was an excellent way to get the ball rolling.
"This is a conversation that has to move forward. It isn't a conversation that ends today. There are many challenges, but we have the opportunity to make significant differences and improvements moving forward if we can find the more common ground and collaborate. We can't lose sight of what the objective is." Simpson said.
The summit also relied on the expertise of Dr. Yona Lunsky, the Director of the Azrieli Centre for Adult Neurodevelopmental Disabilities and Mental Health in Toronto. She joined the event via video conference and shared on her research on the mental health needs of individuals with intellectual and developmental disabilities and their families.
Lunsky studies psychosocial risk factors for psychiatric disorders and health service utilization patterns in this population and is the principal investigator of several studies examining clinical and systems issues related to health services. She is also involved in a number of projects focused on improving primary, emergency and mental health care.
Lunsky said it's easy to get stuck in the mud looking back at why specific policies never moved forward or programs don't have the desired outcomes initially intended. She stressed that success would come when people and organizations focus on the future.
"If we think about focusing on some of the solutions, then we start to build a little bit of momentum. We see things that are working and learn exactly what made it work; then we can make things improve."
She said every organization could shape their own story. It can be one of despair or harm, or it can be positive and thinking about how to make changes.
"At the end of the day, I think our hope can win out over our despair. We have to keep disabilities at the forefront of our debates," she said.
Dr. Lunsky stressed some critical areas that are important to moving health issues forward for people with intellectual disabilities.
"We have to use the numbers and evidence that back up their concerns and use them to tell their story. It's not enough that they are published to a website or in a brochure and hope it is used," she said. "Organizations need to think about how they are engaged to create and develop and invest as much energy and how we implement and what we implement."
The Toronto-area physician said there needs to be a consideration for education, keeping the broad scope in mind that we're not just educating healthcare providers, but rather health care systems, policymakers, administrators, and everyone in the healthcare setting, including those with intellectual disabilities, families, and staff.
"The way to make change is to work together. Developing relationships over years that form collaborations and engagement will pay off in the long term. We need to include people with intellectual disabilities and their families," said Dr. Lunsky.
She also stressed it is important to celebrate what works.
"Everybody loves a party. When we celebrate that something that worked, it helps us focus on hope, as opposed to being stuck in a cycle of despair.
She said by recognizing the amazing work, it lets people within the organization who may not have any knowledge of the program that there is a success and it encourages other to inquire about the accomplishments.
She said the summit provided a valuable opportunity to bring together a broad range of people who deal with the wide range of health issues affecting people with intellectual disabilities. She said she hopes improvements are on the horizon.
"Each organization has its own challenges, but we can definitely see some commonalities between each of the groups, in terms of access, in terms of having information available, and then being able to motivate and to sustain some of the changes needed to pursue long-term health benefits," Nagy said.
Special Olympics BC is hoping to hold more summits across the province to get input from all regions and communities in B.C.
Anyone interested in assisting our efforts to advance health outcomes for individuals with intellectual disabilities can contact Sarah Russell, Health & Engagement Coordinator for SOBC at srussell@specialolympics.bc.ca or Scott Howe at showe@howeinternational.consulting.