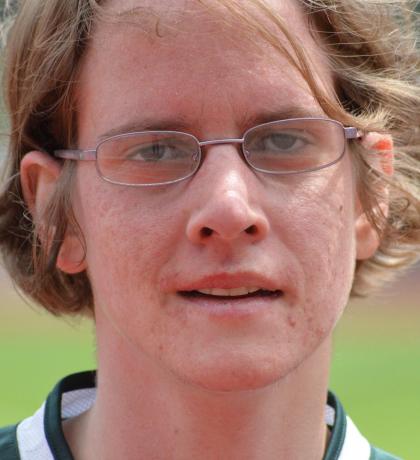 In National Volunteer Week 2021, several amazing Athlete Reporters took the time to thank and celebrate Special Olympics BC volunteers!
SOBC Athlete Reporters have completed training on storytelling, technology use, and social media in order to help share Special Olympics voices and stories. This SOBC Athlete Leadership course was created in 2018 by SOBC – Victoria volunteers and professional journalists Andrea Boyes and Tess van Straaten. 
Athlete Reporters who completed their training in December 2020 were asked to create stories sharing how Special Olympics BC volunteers make a difference.
Miranda Orth, SOBC – Nanaimo:
"Special Olympics volunteers make me feel like I want to join them in warming me up on day of the race for a middle-distance competition I do, like 5,000 metres. Also they help me with making me stay focused even if I'm feeling at the beginning as though it's a hard race to do on a track, as it's 12.5 laps and isn't one of the short distances like a race that is, say, 200 metres.
"I want to thank Special Olympics volunteers for their part in Special Olympics because they do a lot of work to assist coaches and athletes in practices of sports like track and field or basketball for qualifier or non-qualifier competitions.
"One of my favourite and recent Special Olympics achievements was winning the five-kilometre race I did back in June 2019 at Swangard Stadium and ended up winning it in 25 minutes. That's an exciting accomplishment with lots of training weeks before the event itself to get me there. [Above] is a picture of me just after winning the 5km race!"
Erin Thom, SOBC – Kimberley/Cranbrook: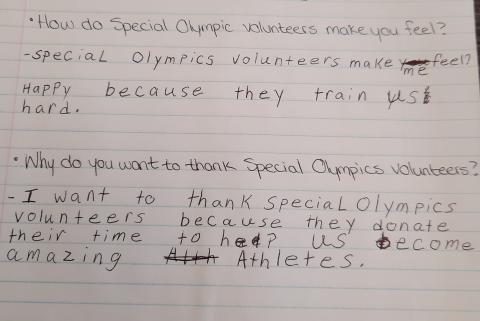 SOBC – Kelowna's Samantha Taylor, SOBC – Trail's Jake Miller, SOBC – Creston's Claire Lemaire, and SOBC – Dawson Creek's David Johnston (speaking and interviewing his partner and fellow athlete Dara Watson)
Stay tuned for more from province-wide Athlete Reporters! Thanks to all for their efforts!
About SOBC Athlete Leadership programs
Special Olympics Athlete Leadership programs offer training to help athletes succeed and inspire through leadership and speaking roles inside and outside the movement. These programs are proven to have a lasting benefit to participants by increasing confidence and self-esteem, and a lasting benefit to Special Olympics as these athlete leaders provide invaluable feedback and insights.
"Athlete Leadership is life changing. It can change the way you see things, and how you communicate with others, to have the courage to stand for others and be on the front lines. It creates leaders." 
–Nyasha Derera, Chair, Special Olympics Global Athlete Congress
If you have questions or feedback about SOBC Athlete Leadership, please contact SOBC Community Development Coordinator Chelsea Rogers at 604-802-4226 or crogers@specialolympics.bc.ca.