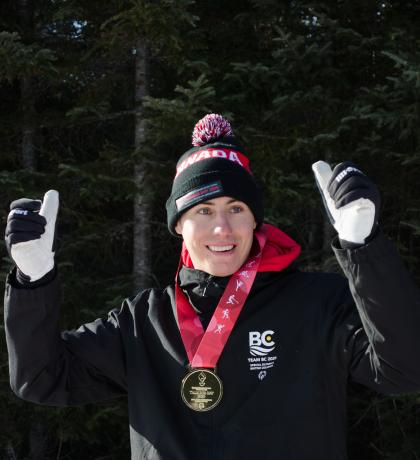 Please read the March 2022 announcements from Special Olympics Canada and Special Olympics International
The below article was published in October 2021
The Special Olympics World Winter Games Kazan, which were originally scheduled for January 2022, have been postponed to January 2023. The decision was made due to current conditions regarding the COVID-19 pandemic and to protect the health and safety of athletes, volunteers, staff, and fans.
What could have been disappointing news was met with overwhelming positivity and understanding from the athletes, coaches, mission staff, and family members of the Special Olympics Team Canada 2022 Training Squad.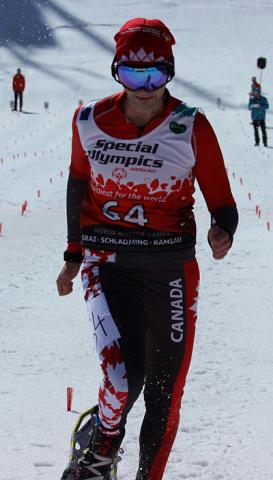 Special Olympics BC – Kelowna's Tony Wilkinson, a Team Canada Training Squad snowshoeing athlete, showed this team's inspiring spirit when he said: "I'm so happy, this means we get to be on Special Olympics Team Canada for another whole year!" 
Chef de Mission Charity Sheehan says she could not be more proud of the team, how far they have come, and their steadfast dedication to the path forward.
"The journey this far has been outstanding! No matter what curveball has been thrown at our team, they have hit it out of the park. From their positive outlook to their incredible work ethic, the SO Team Canada 2022 Training Squad is living proof that when the right individuals have the right support, magic happens," said Sheehan, who is also Special Olympics PEI's Executive Director.
The Special Olympics Team Canada 2022 Training Squad roster was first announced in December 2020. Since then, the members have been hard at work from coast to coast to coast.
Special Olympics Canada united the team on Training Central, a comprehensive virtual resource library and web-reporting tool created for athletes and coaches to connect, access workouts, and track progress. Special Olympics athletes from across the country are encouraged to access Training Central to 'Join The Journey' and train alongside the national team.
Click here to check out their training and nutrition tools 
Since March, SO Team Canada Training Squad athletes have been completing daily reports on Training Central. They log everything from how they are feeling and what they are eating, to exercises completed and daily step counts.
Team members have been quick to adapt to the rigorous reporting schedule. They have inspired their coaches with their determination despite the unique training conditions. 
SOBC – Kelowna's Francis Stanley, an SO Team Canada cross country skiing athlete, has been biking, roller skiing, and hiking hundreds of kilometres as well as crushing his gym workouts. 
"He is dedicated to training at least four times a week, and even a 20-km detour biking to work is known to happen! Or a casual 60-km roller ski," SO Team Canada cross country skiing Head Coach Annabel Stanley said. (Annabel Stanley is also a valued member of SOBC – Kelowna and is Francis' mother.)
Francis has also been baking up a storm, and generously using his talents in the kitchen to fundraise for Special Olympics. "Fig bars, cinnamon buns, energy balls, and peanut butter cookies are just a few of the amazing baking that came out of his kitchen," Annabel Stanley said. Through his hard work and skills, Francis raised $300 for SOBC – Kelowna! Watch his generous cheque presentation
"Looking forward to another winter on snow with our athletes, and another year to train for Russia," Annabel said.
In addition to their continuous work on Training Central, SOTC 2022 Training Squad members gathered for the first-ever Virtual Training Camp in May 2021. 
The training camp included 12 hours of training over a four-day period. Sessions included Strength and Conditioning, Nutrition, Medical, Communication, and Mental Performance Training as well as team bonding and athlete social activities – including, of course, a virtual dance party in true Special Olympics spirit!
Please join us in celebrating the Special Olympics Team Canada 2022 Training Squad as the longest-serving national team in Special Olympics history! Let's wish them success in their continued preparation for competition at the world stage in 2023!
Members of the Special Olympics Team Canada Training Squad from B.C. qualified with their years of training and their progression through Regional Qualifiers in 2018, the 2019 Special Olympics BC Winter Games, and the 2020 Special Olympics Canada Winter Games.
Check out the SO Team Canada 2022 website
Meet the team members from B.C.
Visit the World Games Kazan 2022 website 
Consistent with recent major sporting events, the Special Olympics World Winter Games Kazan 2022 will continue to be known by that name even though the event will occur in 2023.