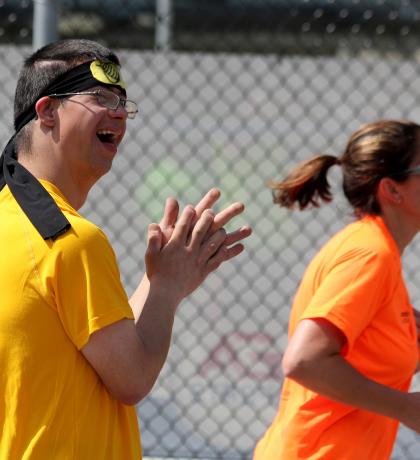 With summer just around the corner, we're excited about another season of motionball fundraising events with the fun-filled VancouverMarathon of Sport on June 7 and Kelowna Marathon of Sport on June 14, and the chic Port & Starboard brunch on July 12 capping the Special Olympics Canada 2014 Summer Games.
Marathon of Sport brings together Special Olympics BC athletes and young professionals in a day of friendly, integrated sport matches. Teams of 10 have fun playing six sports including volleyball, soccer, and ultimate Frisbee while earning prizes for their point-getting and pledge-raising prowess.
Now in its eighth year, the Vancouver Marathon of Sport will once again be hosted by EA Sports at their outstanding facilities in Burnaby.
More than 20 enthusiastic teams and 50 Special Olympics athletes have already signed on. Some teams, such as the Electric Hawks (formerly the Punks), return year after year to this fun day of competition.
Last year the Vancouver Marathon of Sport raised more than $51,000 for Special Olympics BC and the Special Olympics Canada Foundation.
The Kelowna Marathon of Sport is going to be bigger than ever with 24 teams, 24 Special Olympics athletes, and nine coaches signed on already and the numbers expected to grow. The third annual event will take place at Springvalley Elementary school.
Pictured at right: Striking a pose at the 2013 Kelowna Marathon of Sport
"It's amazing what happens out there on the field," Michael Blondé, Event Director of motionball Kelowna, said after last year's Marathon of Sport. "Yes the money is important and very much needed, but more so, Marathon of Sport is about the Special Olympics Canada Athletes integrating with participants, donors, and volunteers."
The 2013 Kelowna Marathon of Sport raised more than $40,000 for Special Olympics.
Building on the event, the Okanagan Young Professionals (OYP) Collective also reached out to their peers with a fundraising "Country Gold" Official After-Party in support of Special Olympics. Nearly 200 guests enjoyed the festivities, which included a live acoustic performance by Kelowna hometown star Chad Brownlee, a 2011 CMA Rising Star of the Year.
Young professionals will soon break out their nautical stripes for Port & Starboard 2.0, this summer's annual motionball brunch in support of Special Olympics. This upscale, Hamptons-style event returns to the Keg in Yaletown overlooking beautiful False Creek on July 12.
Kid Carson of SONiC 104.9 will host the event, and Special Olympics BC athletes will be on board to mix and mingle with partygoers. There will be lots of raffle prizes and auction items, from bottles of wine to concert tickets, golf outings, and vacation packages.
The swanky fundraiser drew around 200 guests in 2013, and organizers hope to double that number this year.
For Port & Starboard tickets, follow the links on the motionball website
motionball is a charitable organization that introduces a new generation of supporters, sponsors, and volunteers to the Special Olympics movement through sporting and social events that integrate Special Olympics athletes and young professionals. Since starting up in 2002, motionball has raised more than $1 million for Special Olympics Canada through their annual events.