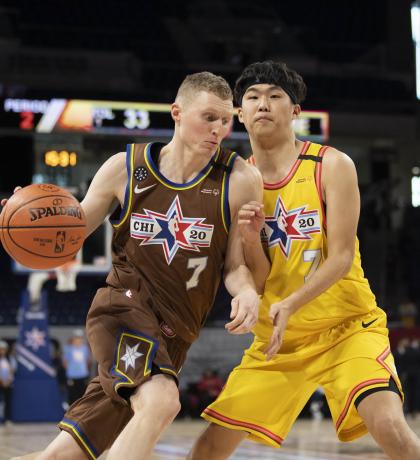 Sean Annan from Special Olympics BC – Langley is still on Cloud 9 after being one of 12 Special Olympics athletes from around the world to play in the 2020 NBA Cares Special Olympics Unified Sports Basketball Game at the NBA All-Star weekend in Chicago.
Every year, for the past nine years, talented Special Olympics athletes and basketball superstars past and present have formed teams to lace up and battle it out on the world stage. The game highlights the wonderful talents of Special Olympics athletes and promotes inclusion around the globe. If you didn't get a chance to watch the 2020 game with Annan, you can find a recording here.
This year the game was full of hard-fought competition and amazing plays on both sides with a consistent show of camaraderie and sportsmanship between everyone on the court. Ultimately, the Home team won over the Away team in a nail-biting 44-43 victory after Special Olympics – Virginia's Chris Carter stole an inbound pass and made his jump shot with 11 seconds left on the clock! 
Annan was accompanied by his father and coach Matthew in Chicago. Upon first glance, the weekend was about the game of basketball, but they say this experience provided so much more. Matthew said the weekend was "life-changing; it was more than basketball. Meeting people from all over the world with shared experiences, it was nice to know that we aren't alone."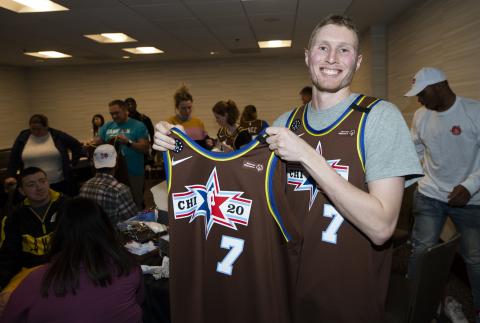 From the onset, both Sean and Matthew were made to feel like a priority. From limo pickups to front-row seats during the NBA All-Star Game, it was a dream come true for any basketball fan. However, when Sean was asked what his favourite memory from the weekend was, his response allowed for a peek behind the curtain at the inclusive efforts of the NBA, as well as Sean's altruistic love for the game and those who play it.  
The NBA welcomed 60 young athletes with intellectual disabilities from North Carolina, where they attended a clinic lead by NBA All-Stars and the 12 Special Olympics basketball players. Sean's highlight of the weekend came when he was able to coach these up-and-coming athletes, passing along his knowledge of fundamentals, dribbling, and shooting. 
"The best part of the session came from putting a smile on those kids' faces," Annan said.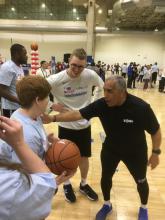 He noted that he would eventually love to continue his involvement with the game in a coaching capacity, but added, laughing, "I still have a lot of young blood, it will be a while before I leave the court."  
Heading into the weekend, Annan calmed his nerves by focusing on having fun rather than winning. It was a sentiment shared amongst the rest of the Special Olympics athletes, and one that allowed for lasting friendships to be formed.  He said his teammates were "extremely nice and welcoming, and everyone showed amazing skill."
Come game time, Annan was most looking forward to stepping on the floor with Muggsy Bogues, citing the NBA player's role in the 1990s blockbuster Space Jam for his excitement. During warm-ups, Bogues was very impressed with Annan's dunks as he showed off his hops. The comments coming from an NBA legend with a recorded vertical of 44 inches made for quite the lasting compliment in Annan's eyes.  
As to be expected, Annan said the lights and cameras at the game meant he wasn't playing 100 per cent right off the start. However, reminding himself of his goals coming into the weekend, Annan pivoted to focus on having fun and in turn found his groove.  
Once Annan relaxed, he started hitting his shots and making plays. His father described him as an "orchestrator, knowing who to get the ball to and when."  
As a coach, Matthew Annan stresses the importance of playing defense, getting rebounds, and hustling on every play.  
"Sean sees success because he is an unselfish player. He is the one to get everyone involved and constantly reinforces that basketball is a team game," he said.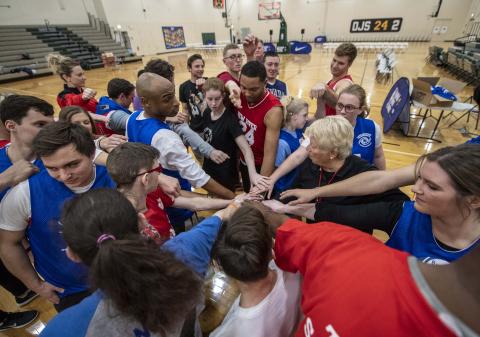 As a father, Matthew said, "I couldn't be more proud of my son. He was a great ambassador for Special Olympics and Canada alike. It was a life-changing experience for Sean, for his confidence, for his passion for basketball, he is a different kid now. Nothing could compare to this weekend. Special Olympics saves kids. Sean isn't just accepted, he is looked up to."  
After returning home, Annan wasted no time in getting right back to the grind. Armed with the knowledge he had gained from some of the best to ever play the game, Annan shared his newfound tips and tricks with the rest of his teammates, saying, "This first practice back was the best I've ever had. Everyone was firing on all cylinders."  
You can watch Annan express his gratitude to the NBA in a thank you video here. If you are still unsure of the transformative powers of sport, Annan concludes with a simple message. "I am capable. I can compete."