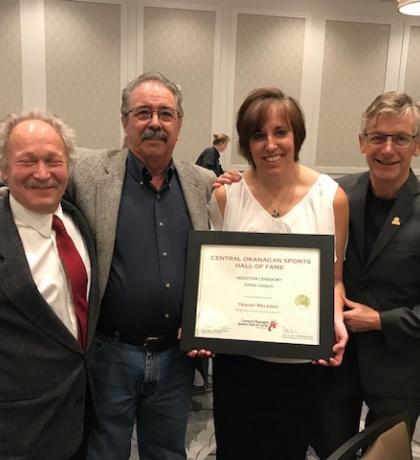 Special Olympics BC – Kelowna athlete Tracey Melesko is one of the newest members of the Central Okanagan Sports Hall of Fame.
Melesko was one of six inductees at the 2018 induction ceremony on November 22 and is the first Special Olympics athlete to enter the Hall of Fame.
Melesko was also the first athlete inducted into the SOBC Hall of Fame in 2000.
The SOBC – Kelowna athlete's journey to both the Central Okanagan Sports Hall of Fame and the SOBC Hall of Fame started when Melesko competed in track and field in 1990, 1994, and 1998 Special Olympics Canada Summer Games in the 100m, 200m, 400m, 4 x 100m, and 4 x 400m relays, as well as in long jump. She earned gold medals in each of these National Games.
Melesko eventually switched her focus to winter sports, where she continued to thrill. Her most recent trip to the 2017 Special Olympics World Winter Games saw the SOBC – Kelowna cross county skiing athlete bring home two gold medals and a bronze.
"Representing Canada and competing at international games is an incredible honour," Melesko said.
The Central Okanagan Sports Hall of Fame celebrates the athletes, coaches, and builders whose accomplishments have made them a part of history in the Central Okanagan. Kelowna, West Kelowna, Peachland, and Lake Country are the regions covered by the Hall of Fame.
Lois McNary, Vice President, Sport for SOBC said Melesko is an incredible athlete who continues to prove what can be accomplished when doors are opened to people with intellectual disabilities.
"Tracey has proven time and again that she is a world-class athlete and has used sport as a way to open hearts and minds towards people with intellectual disabilities and create inclusive communities all across British Columbia," McNary said.
Click here to read more on Melesko's 2000 induction to the SOBC Hall of Fame.