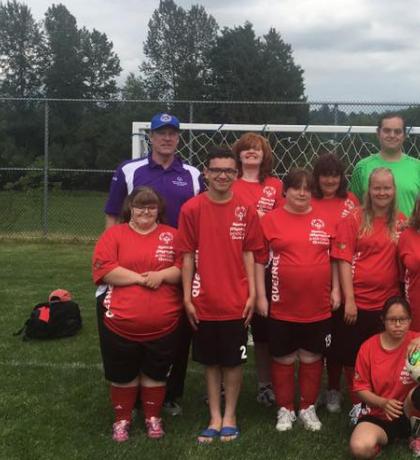 From the very first time he attended a Special Olympics BC – Quesnel sport event, Victor Hegan was hooked on coaching with SOBC.
Hegan coaches floor hockey, golf, and soccer with SOBC – Quesnel. An experienced coach, Hegan got involved with Special Olympics because he was looking for a way to get back into sports and make a positive impact in his community. Hegan says SOBC athletes have high levels of skill and determination, and he admires how they support each other.
Hegan wants people to know that SOBC – Quesnel and SOBC – Prince George athletes who were part of Team BC 2018 represented their province with pride and achieved some great results at the 2018 Special Olympics Canada Summer Games in Antigonish, Nova Scotia.
When did you start with Special Olympics, and how did you get involved?
I started volunteering as an assistant coach in January or February of 2016.
Prior to 2016 I had an unexpected career change, and had retrained as an electrician. With this work I was frequently working out of town for long periods of time on shift work.
In the fall of 2015, while I was in my final year of electrical school to become a journeyman electrician, I was offered a job with the Ministry of Forests, Lands, Natural Resource Operations & Rural Development Service Plan in Williams Lake, in my previous career in forestry. As it turns out, with a couple of people retiring, I was offered a full-time job with the Ministry in Quesnel.
At this stage in our lives my wife and I were empty nesters. When our kids were growing up I had been quite involved in coaching both my son and daughter in soccer and hockey, and I had really enjoyed coaching.
I love sports, especially soccer and floor hockey, but felt I was too old to play in a soccer league anymore, and I wanted to help out coaching in the community. I saw an ad that Special Olympics was looking for coaches, so I decided to go out to their floor hockey night and check it out. I really enjoyed the athletes and coaches, so from then on I was hooked.
What has been your most memorable Special Olympics experience?
My most memorable Special Olympics experience I think was at the golf tournament that Quesnel puts on in September 2017, which involves SOBC – Prince George and SOBC – Quesnel athletes. During the second day of the competition, which was team best ball, the tournament was short one athlete, so a coach was invited to play with one team. I was chosen to play with an athlete named Jordan from SOBC – Prince George in the competitive division. We played against a really strong golfer named Josh and his partner Werenka. Josh is a very good golfer and it was a competitive, but a very enjoyable match. Jordan and I were going head-to-head with Josh's team, and his team gained a couple of strokes on one hole and ended up winning the match. The athletes were fun and great to play with, there was lots of good will, fun conversation, and banter, and I really enjoyed the opportunity to be part of the competition.
What is your favourite thing about being involved with SOBC?
I think my favourite thing about working with Special Olympics is how skilled and determined a lot of these athletes are in sport and life, how supportive and caring of fellow athletes and coaches they are, and how interesting their unique stories are!
What would you like others to know about SOBC – Quesnel?
I don't think people realize how skilled most of these athletes are, and how much time every week they spend in sport activities on top of working part-time or full-time jobs. We have athletes from Quesnel and Prince George that qualified for and participated in the 2018 Special Olympics Canada Summer Games in Antigonish, Nova Scotia, and did very well! We had two SOBC – Quesnel athletes win silver medals on the Team BC soccer team, Riley Foster and Brock Terlesky, and one athlete from SOBC – Quesnel also won a silver medal in the 200-metre dash, Thomas McHugh.