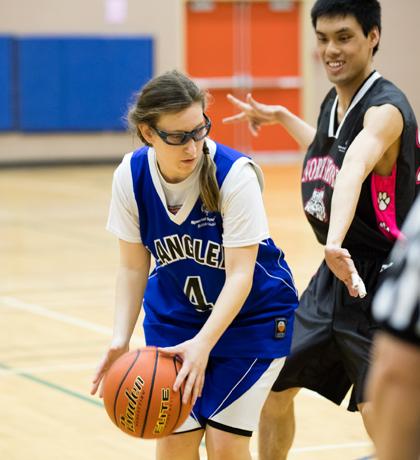 Special Olympics BC – Langley's Kailyn Potomak is an accomplished athlete who loves to spend time with her teammates.
Potomak participates in alpine skiing and basketball. Recently, she has been training hard on the slopes as she prepares to compete in next month's 2019 Special Olympics BC Winter Games in Greater Vernon. Potomak says she is looking forward to seeing many friends from across B.C. at the event.
"I am very excited to go!" she says.
Potomak loves how skiing gives her opportunities to spend time outdoors. She enjoys skiing with her family, and Potomak and her brother like to challenge each other while taking on moguls and rough terrain.
A longtime member of the SOBC – Langley Warriors basketball team, Potomak is very close with her teammates and says they are like family to her. She enjoys spending time with them after practices, which can include going out for a meal, attending a hockey game, or visiting other Special Olympics athletes.
"It's really good – it's great!" Potomak says. "It's hard work, but after practice you just talk with your friends."
As a member of the Warriors, Potomak earned gold medals at the 2013 SOBC Summer Games in Langley, the 2014 Special Olympics Canada Summer Games in Vancouver, and the 2017 SOBC Summer Games in Kamloops. The team also won a silver medal at the 2018 Special Olympics Canada Summer Games in Antigonish, Nova Scotia.
Potomak said competing in Antigonish as a member of Team BC is one of her most memorable experiences with Special Olympics. It was her first trip to the East Coast and her first time flying in an airplane in many years.
"It was cool! We could see all the snow on the mountains there and on the way back!" she said.
Potomak said people in Antigonish were very friendly and she enjoyed spending time on St. Francis Xavier University's beautiful and historic campus, where the National Games took place.
For Potomak, a highlight of the competition was playing the Manitoba team for the gold medal. The game was a rematch of the 2014 Special Olympics Canada Summer Games final, and the teams had split their previous two matches in Antigonish.
After a fast-paced and exciting game, Manitoba came out on top and secured the gold medal. Potomak said the basketball players from B.C. tried their best, and she is proud of herself and her teammates.
Kailyn's father Peter Potomak is a coach with the Warriors, and he was very happy with the way the team played.
"It was impressive – one of the most exciting games we ever played! It was nail-biting!" he said.
Peter Potomak said seeing the athletes receive their silver medals was an amazing experience.
"It was emotional. I am not an emotional person, but there were some tears there."
After the game, Kailyn Potomak congratulated the Manitoba squad and told them she hopes they can play again. She says there is great sportsmanship and respect between the teams, and being part of such a great rivalry "feels awesome!"
Potomak works with her father at ContainerWest, a company that sells and rents shipping containers. She performs a variety of tasks at work, including driving a forklift and helping clean the yard. She says her job gives her opportunities to meet new people and learn new skills.
Peter Potomak says Special Olympics has helped Kailyn develop confidence and become more independent, and this has helped her in all aspects of her life.
"The growth I've seen from Kailyn over the last four or five years is phenomenal!" he said.
Looking forward, Potomak says one of her goals is to get her driver's licence. In alpine skiing, she is hoping to qualify for National Games, then go on to compete in World Games. On the basketball court, she would love to help the Warriors win another gold medal at National Games.