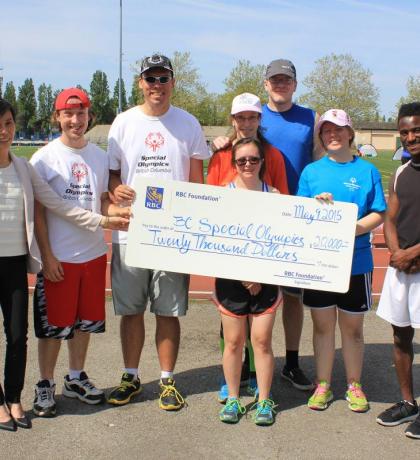 "Truly marvellous" growth and gains were observed in Special Olympics BC coaches and athletes through the Performance Program in the 2015-16 sport season, which was the fourth year of operation for this groundbreaking initiative.
SOBC's Performance Program is a long-term plan for enhancing the skills and performance of coaches and through them, all SOBC athletes. The program is not just for elite athletes – it's for coaches who are open to new training techniques and athletes who are committed to training. Participating coaches and athletes take the skills that they learn back to their local programs to benefit all athletes, not just a few. 
In this fourth season of operation, new coaches have been introduced into the program in a wide range of sports, and the coaches with previous Performance Program experience have done a fabulous job of mentoring the newcomers to continue expanding the impact and reach of the program's tools and vision.
This season SOBC hosted 24 Performance Program camps and expanded into supporting all 18 SOBC sports; meanwhile, participating coaches and athletes demonstrated many improvements in their abilities and impact on others. The successes of Team BC 2016, including the strength and preparation of the coaches and many personal bests achieved by the athletes, also signalled the program's impact.
"We're seeing a significant change in our coaches' abilities. We're seeing it not just in their athletes' performances, but also in B.C. coaches at competitions – how confident they are, how prepared they are, and how they have networks they can and do use," says SOBC Vice President, Sport, Lois McNary. Peers across the country are noticing and remarking on how strong SOBC coaches are.
SOBC – Kelowna's David Wilkinson served as a Team BC 2016 snowshoeing coach and has participated in Performance Program camps. Even though this was just his first National Games, Wilkinson was selected to be a Special Olympics Team Canada 2017 snowshoeing coach, a particularly exciting achievement since his son Tony also qualified for a spot on the team as a competitor.
Wilkinson said the Performance Program provides interaction with experts and fellow coaches that have helped him develop more drills and coaching techniques that he has been able to work into to his local program. In addition, he said, the hands-on instruction helps athletes really build their skills with sport-specific techniques, and feel happy with their success in the improvements they can see.
"I really do think it's a valuable thing," Wilkinson said, noting the great successes observed between the Performance camps and the 2016 National Games, where all of the Team BC snowshoers posted personal-best performances.
SOBC – Dawson Creek coach Keith McKeeman attended his first Performance Program speedskating camp in May along with athletes Gabby McGillvray and Tyson Beaulieu.
"It's a first-class operation," McKeeman told the Dawson Creek Mirror. "What I really noticed was the expertise. I was quite impressed with the dryland training."
Jacques Thibault, the internationally recognized sport performance expert who has helped SOBC build the program, noted that significant gains have been observed, and the leadership and abilities of SOBC coaches and athletes are very inspiring.
"Lots of progress has been observed since the Performance Program started four years ago, but what is happening now is truly marvellous. The level of expertise of our athletes, coaches, and administrators is always improving, providing leadership that inspires excellence in health and sport for all," said Thibault (pictured above right with coaches and athletes at an SOBC Speed Skating Performance Camp). "I am grateful to have the chance to work with such amazing people."
The goal of the Performance Program is to elevate everyone's level of sport and performance by providing training and tools to participating coaches and athletes so they can share them with everyone in their home communities. We believe that by giving coaches better resources and tools, they can then train athletes better, who in turn raise the level of competition making everyone's performance level rise.
The program involves three components:
by-invitation camps where athletes and coaches from all over the province work with sport-specific experts and sport science experts to help develop their skills and knowledge and give them tools to share;
functional testing sessions that provide direct feedback on where the athletes are in their fitness and how they can improve, helping motivate the athletes and guide training; and
coach-only camps and summits where coaches come together to learn from experts, share their experience with others, and collaborate on ideas.
In addition to connecting coaches with their SOBC peers and other sport and training experts, the Performance Program teaches valuable new techniques to athletes and coaches alike. It pushes the boundary of what we think is possible for training.
Videos are produced about training tips and techniques introduced at Performance camps and are posted on the SOBC website to benefit all coaches and athletes. To view them, visit the "Videos" pages in the sport-specific manuals and resources sections on the SOBC website.
The vision for 2016-17 is to have a similar number of Performance Program camps as in the last sport year, and continue supporting all sports. James Marchand, SOBC Sport Coordinator – Performance, is arranging a two-year calendar of upcoming camps, with the next few months set to include athletics and speedskating in September, swimming in October, and snow sports and curling in December.
Work in winter sports will continue, at least at the same level as the previous year, and there will also be an increased focus on preparing all of B.C. for the 2017 SOBC Summer Games and 2018 Special Olympics Canada Summer Games. There is a two-year plan to prepare not only the coaches going to the next National Games, but also support all of the coaches and athletes participating in the empowering Provincial Games experience.
Significant support from the Government of Canada, a $20,000 grant from RBC Foundation, and the ongoing generosity of SOBC's provincial partners help make the Performance Program opportunities possible.
Watch the SOBC Performance Program intro video:
Learn more about the Performance Program