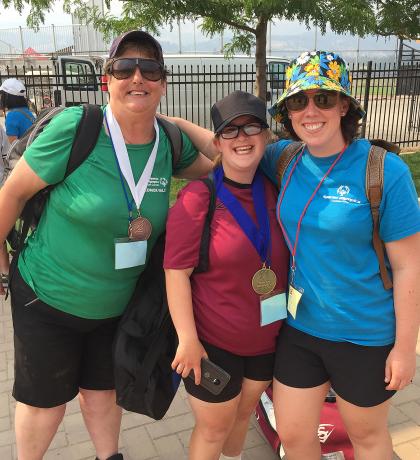 The pandemic has been especially hard for people with intellectual disabilities. This year, more than ever, funds raised by the New Car Dealers Foundation / Special Olympics BC Auction make a difference in the lives of SOBC athletes.
Running from May 27 to June 2, the 2021 New Car Dealers Foundation / Special Olympics BC Auction raised a record $215,000. New Car Dealers and supporters steered the event to success by donating more than 280 auction items, making cash pledges, soliciting donations, and bidding on items.
"The 2021 auction was particularly important because it showed that even during times when we all are faced with extra challenges in our lives, we all came together as an industry to continue to show our unwavering support for this important cause. It demonstrates that we all have the ability to make a big difference in the lives of Special Olympics athletes, and show them how much we care," New Car Dealers Foundation of BC Chairperson Heather Headley said. 
Since its inception, the auction has raised more than $5.4 million to support SOBC's life-changing year-round sport programs for people with intellectual disabilities, and the empowering work of the New Car Dealers Foundation of BC. 
Funds raised in this year's auction will help SOBC reopen programs in 55 communities throughout our province. This support will play a critical role in renewing all of the friendships and opportunities that matter so much to SOBC athletes, who are still too often forgotten and left behind by society.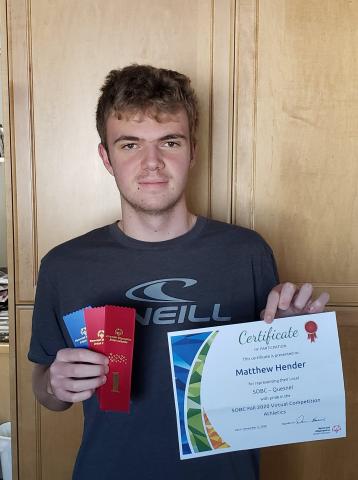 "For me, personally, Special Olympics really has made a huge impact in my life, and without you supporting us, I wouldn't be who I am today!" SOBC – Surrey athlete Susan Wang said.
Many SOBC athletes knew the pain of loneliness long before COVID-19. The pandemic cut them off from regular access to the Special Olympics community that is critical to their health and happiness, and many athletes are still missing the vital social connections created through in-person Special Olympics.
"The pandemic has been really hard for a lot of us athletes. We're not able to see our friends as much or be able to play all the sports we love. We also can't go and see our coaches. We're limited. It's been really hard," SOBC – Cowichan Valley athlete Julie Black said.
For many athletes with intellectual disabilities, Special Olympics is the only place where they have friends, where they are active and healthy, and where they are first and foremost seen for their abilities and talents.
"Special Olympics is very important to me because it is what got me out of my shell. Without Special Olympics to build up my confidence, I think my life would be pretty different right now," SOBC – Quesnel athlete Matthew Hender said.
We sincerely appreciate everyone who helped make the 2021 New Car Dealers Foundation / Special Olympics BC Auction a big success!
"I'd like to give a big thank you to the supporters! Many of our other athletes, we say that your support makes a big difference in our lives. This makes us feel special, so you make us feel special. And that's coming from the bottom of our hearts," SOBC – Creston athlete Frances Collison said.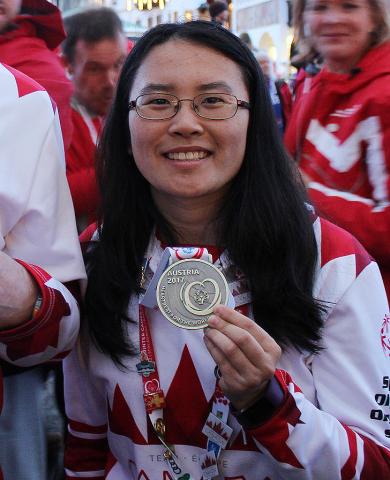 Huge thanks to Silent Auction Sponsor First Canadian Insurance; Vehicle Donors BC Honda Dealers Association, Chevrolet Buick GMC Dealers of BC, and Pacific Toyota Dealers; Media Sponsors The Province and Vancouver Sun; and $5,000 Cash Donors Bannister Automotive Group, Jim Pattison Auto Group, and W.P.J. McCarthy and Company Ltd.
Heartfelt thanks to the dedicated members of the auction organizing committee. Every year they give countless hours of thoughtful and compassionate work in order to make this event a success. Thanks to:
Manse Binkley, Harmony Honda and Harmony Acura
Marnie Carter, Carter Auto Family
Heather Headley, Pacific Honda & New Car Dealers Foundation
David Jukes, First Canadian Insurance
Pamela Keith, Dueck Auto Group
Bill Mitchell, Carter Auto Family
Blair Qualey, New Car Dealers Association
Special Olympics BC and the New Car Dealers Foundation extend sincere thanks to everyone who supported the 2021 auction and look forward to another exciting event in 2022. To get involved, please contact Heather Maciver, SOBC Vice President, Fund Development & Communications, by email.
Thank you!
Silent Auction Sponsor 
First Canadian Insurance 
Vehicle Donors
BC Honda Dealers Association 
Chevrolet Buick GMC Dealers of BC 
Pacific Toyota Dealers 
Media Sponsors
The Province
Vancouver Sun
$5,000 Cash Donors 
Bannister Automotive Group 
Jim Pattison Auto Group 
W.P.J. McCarthy & Co Ltd 
 
$1,000 - $3,000 Cash Donors 
Applewood Auto Group 
Auto West Group 
Capilano Audi / Volkswagen 
CDK Global 
Color Compass Corporation 
Dueck Auto Group 
Go North Surrey 
Greg Gardner Motors 
Harmony Acura 
Harmony Honda 
Laird Wheaton GM 
Park Shore BMW 
Precision Carriers 
 
$1,000+ Item Donors
Allwest Insurance Services Ltd. 
Big White Ski Resort 
Carter Auto Family 
Dueck Marine Division 
MacCarthy GM 
Revelstoke Mountain Resort 
Signature Mazda 
Wheaton Precious Metals 
 
$250 - $500 Cash Donors 
Baker Tilly WM LLP 
Barnes Wheaton GM South Surrey 
Brian McLean Chevrolet 
CarGurus 
Chris Collins Training ULC 
Doak Sherriff LLC 
Downtown Tyee Chevrolet Buick 
Jenner Chevrolet 
Landmark Management Ltd. 
MCL McGill Carriers 
Michael Mason and Co. Ltd. 
Murray GM 
Okanagan Computer Products Recycling 
Top Grade Tire Recycling Inc. 
Unifirst 
Wheaton GM