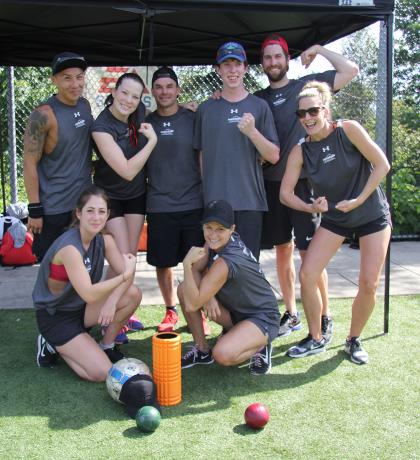 The hallmark of every motionball Marathon of Sport is the remarkable spirit of inclusion and camaraderie shared by the teams of young professionals and Special Olympics athletes who come together for the super-fun day of sport. This year's Marathon of Sport events in B.C. were no exception and were significant fundraising successes.
Now in its ninth year, the Marathon of Sport Vancouver brought together 24 teams of young professionals and 37 Special Olympics BC athletes for an incredible day of inclusive sport and fun at the amazing EA Sports complex on June 6. Participants played seven sports and cheered each other on throughout the day, creating a fun and vibrant atmosphere where the Special Olympics athletes felt included and welcomed by their teammates.
One parent wrote to the event organizers afterward to share what a "fantastic experience" the Marathon of Sport was for her daughter, a Special Olympics athlete.
"Her teammates were just awesome with her, and it gave her the chance to play sports she had never played before and feel completely included. This was the first time she had been invited to this event, and we can't say enough about what an excellent experience it was for our family. So thank you!" she wrote.
Congratulations and thanks to Team Vega the top Vancouver fundraising team at $10,722! Our sincere congrats and thanks also go out to Hootsuite and BBD for entering five and four outstanding teams each, respectively. The Hootsuite teams raised an incredible $18,385 together and had more than 40 staff participating in the event with great spirit.
The Marathon of Sport Vancouver crushed its previous records by raising $80,000 net for the Special Olympics Canada Foundation and Special Olympics programs across the country.
Two weeks later, the fourth annual Marathon of Sport Kelowna presented by Interior Savings was another huge hit, with 19 teams of young professionals and 34 Special Olympics athletes from around the region enjoying the day of play at Spring Valley Middle School. The event saw enthusiastic participation, inspiring inclusion, and great support from the community, including the participation and active tweeting by Kelowna Mayor Colin Basran who played on the top fundraising team, Reeks of Awesomeness!
The Marathon of Sport Kelowna also saw motionball Chairman and Co-Founder Paul Etherington come west to join the fun.
When asked by KelownaNow.com why he loves this event so much, Etherington said, "It's all about integration with the Special Olympics athletes, less about the competition and more about the athletes."
Watch Marathon of Sport Kelowna coverage on Shaw TV Okanagan:
Congrats and thanks to the Marathon of Sport Kelowna for smashing their fundraising goal and raising $53,000 net for Special Olympics!
Our heartfelt thanks to the volunteer organizers who log countless hours to make these events possible. Michael Blondé of Hootsuite and Mike McClenahan of BBD are the dedicated Co-Directors who run the Marathon of Sport Vancouver, teaming up with Wendell Harlow of EA Outreach and Rosa Mattia of EA Sports to make this amazing experience possible. In Kelowna, Donnie Ungaro and Ginger Fuhr do a phenomenal job as Co-Directors dedicated to engaging the young professionals in their community and ensuring a supportive experience for the SOBC athletes.
More Marathon of Sport Vancouver photos
More Marathon of Sport Kelowna photos
motionball is a not-for-profit whose mandate is to introduce the next generation of donors, volunteers and sponsors to the Special Olympics movement through integrated social and sporting events. Since inception in 2002, motionball has donated over $5 million to the Special Olympics Canada Foundation.