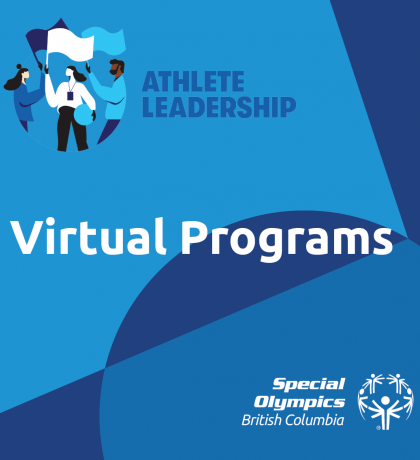 We'd like to send a shoutout to the passionate and keen athletes who completed Special Olympics BC Athlete Reporter and Health Messenger training this fall!
Through SOBC Athlete Leadership programs, athletes develop the skills and abilities to take on a range of leadership roles.
In October and November, seven SOBC athletes joined a cohort of Manitoba athletes to complete Special Olympics Health Messenger training through virtual sessions with SOBC Sport Coordinator Marlow de Paul and SOM staff. This training helps athletes learn to serve as health and wellness leaders, educators, advocates, and role models within Special Olympics programs and communities. 
Health Messengers use these tools and lessons to empower fellow athletes and advocate for the health needs of people with intellectual disabilities. After completing the course, each Health Messenger is required to do one health and wellness-focused practicum in their communities or virtually within one year of their training, to put their health and wellness into practice. We can't wait to see what these inspiring individuals will do!
Congratulations and thanks to: 
| | |
| --- | --- |
| Athlete | Local |
| Matthew Basso | Campbell River |
| Sarah Brown | Vancouver |
| Matthew Lai | Richmond |
| Vincent Li | Richmond |
| Kerri Lipsack | Oceanside |
| Kayley Olund-Rak | Surrey  |
| Victoria Trerice | Campbell River |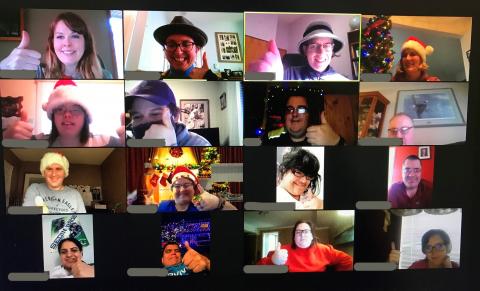 In December, 15 dedicated athletes from around the province completed the new SOBC Virtual Athlete Reporter training. This course helps athletes build skills in storytelling, technology, and social media. It was originally created by SOBC – Victoria's PR Coordinator Andrea Boyes and Public Speaking Organizer Tess van Straaten, both coaches and volunteers who are also experienced journalists. Boyes led the first edition of the new virtual course, along with SOBC Communications Manager Megan Pollock.
The athletes who participated all showed great skill in storytelling, interviewing, filming, and writing. They also created great discussions about social media and how to help share the stories of Special Olympics, while staying safe online. Watch for more of their stories to come in 2021! For a preview, please scroll down to find a fantastic story shared by Athlete Reporter Alicia Lewis-Patient of SOBC – Comox Valley.
Congratulations and thanks to:
| | |
| --- | --- |
| Athlete | Local |
| Hillary Birkett | Surrey |
| Priscilla Dickson | Oceanside |
| David Johnston | Dawson Creek |
| Claire Lemaire | Creston |
| Alicia Lewis-Patient | Comox Valley |
| Kerri Lipsack | Oceanside |
| Sandra Malku | Richmond |
| Jake Miller | Trail |
| Miranda Orth | Nanaimo |
| Kendall Salanski | Kimberley/Cranbrook |
| Roy Stephens | Kelowna |
| Ryan Stewart | Richmond |
| Danniel Sperling | Kelowna |
| Samantha Taylor | Kelowna |
| Erin Thom | Kimberley/Cranbrook |
Stay tuned for more details to come about virtual Athlete Leadership courses in the new year! Amazing volunteer facilitators are working to offer Athlete Speakers Bureau 1 and 2 virtually. And SOBC Community Development Coordiator Melainie Hatt is updating the popular Safe Sport Anti-Bullying course, so watch for a new version to launch in the new year!
Athlete Reporter Alicia Lewis-Patient on her Special Olympics history
It was Christmas of 1999 when I first heard about Special Olympics. I then met with the Local Coordinator for district 69 back then; now it's called Oceanside.
I started to make friends back then. In the beginning, I started in curling, swimming, bowling, softball, and track and field. In 2000, three of us were picked to go to Softball City in Surrey, and we were part of bringing the cup back to Canada. When returning to the Island, we received limo service home as one of the caregivers had a limo service.  
I was an athlete rep for two years. As time passed, I competed in many competitions. I only kept pushing myself to do better the next time and to always be there for my friends [and they would be there for me].
In 2012 I was asked if I wanted to play softball with the Courtney/Comox team and I did. I made a lot of new and close friends. We then went to the 2013 Special Olympics BC Summer Games, and when I came home I transferred teams. 
To the present day I have made it to every Games!! I haven't missed one. My friendships have only blossomed and grown, and I have grown too in so many varying ways. 
I think that Special Olympics is an important aspect for people with intellectual disabilities who enjoy sports and need the social interaction – especially during this time when people are isolated – and it's a place that feels safe, where everyone can just be themselves and not be judged, as well as skill building in different things.
Thank you Alicia for this report!
About SOBC Athlete Leadership programs
Special Olympics Athlete Leadership programs offer training to help athletes succeed and inspire through leadership and speaking roles inside and outside the movement. These programs are proven to have a lasting benefit to participants by increasing confidence and self-esteem, and a lasting benefit to Special Olympics as these athlete leaders provide invaluable feedback and insights.
"Athlete Leadership is life changing. It can change the way you see things, and how you communicate with others, to have the courage to stand for others and be on the front lines. It creates leaders." 
–Nyasha Derera, Chair, Special Olympics Global Athlete Congress
If you have questions or feedback about SOBC Athlete Leadership, please contact SOBC Community Development Coordinator Chelsea Rogers at 604-802-4226 or crogers@specialolympics.bc.ca.