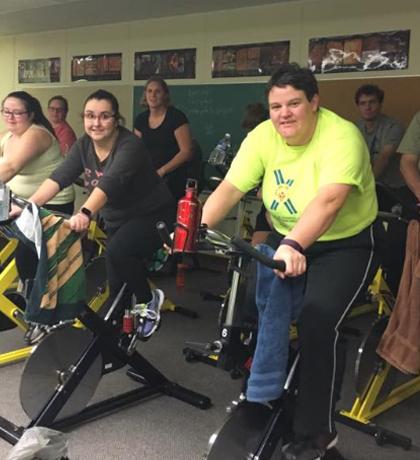 Special Olympics BC – Kimberley/Cranbrook facilitator Shelley Joubert says doing functional testing as part of her Local's Club Fit program has helped athletes build their fitness and self-esteem.
"You see athletes push themselves more," she says. "They have their teammates and coaches cheer them on, and it pushes them to succeed."
Functional testing involves exercises that measure fitness and foundational movements. These sessions are used to test an athlete's fitness level, and to motivate and guide his or her training. Functional testing is important as it provides feedback to coaches regarding the program's effectiveness and shows the personal progress of each athlete.
SOBC is encouraging Locals to do functional testing at least twice a year as part of their Club Fit programs. Joubert says this helps Club Fit facilitators tailor their programs to make them more effective at helping athletes reach their fitness goals.
Joubert says SOBC – Kimberley/Cranbrook Club Fit facilitators go over functional testing results with athletes individually. If an athlete has an area that could use improvement, the facilitators provide the athlete with corrective exercises that will help.
Also, facilitators will address common issues in the warm-up part of the Club Fit sessions. As an example, if athletes are having trouble with jumping, they might play a game where athletes have to jump with two feet into hula hoops.
Joubert says athletes love the functional testing sessions. They take it as a challenge and enjoy building on their successes. It has also helped them develop their levels of fitness, which has led to them getting more enjoyment out of exercising and participating in their sports.
"It's such a positive self-esteem builder," she says.
To learn more about functional testing sessions, or if you are a coach who is interested in accessing functional testing results or running a functional testing session for your athletes, please contact Helen Cheung, Performance Program Coordinator, by email at hcheung@specialolympics.bc.ca or by phone at 604-737-3055 / 1-888-854-2276 toll-free.