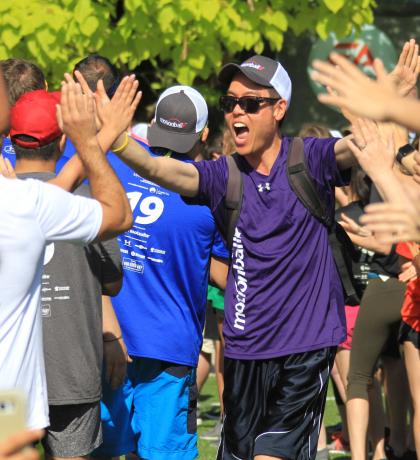 The 2019 motionball Marathon of Sport events in B.C were full of big smiles, high-fives, and successful fundraising. 
"Marathon of Sport is a good opportunity to meet new friends, athletes, and volunteers," says Special Olympics BC – Vancouver athlete Richard Louis. "At Marathon of Sport, having fun and showing good sportsmanship makes me feel good and happy!"
At Marathon of Sport events, young professionals compete alongside Special Olympics athletes in a variety of sports, such as basketball, bocce, volleyball, and Ultimate. At these events, you'll find a remarkable spirit of inclusion, meaningful interactions between participants, and significant funds and awareness raised for Special Olympics programs across the country.
This year also saw the first motionballU Marathon of Sport event in the province, launching at the University of British Columbia's Okanagan Campus. motionballU provides university students with opportunities to support Special Olympics and connect with individuals with intellectual disabilities in fun and meaningful ways. 
Louis says his favourite part of the motionball Marathon of Sport Vancouver presented by Hootsuite is interacting with his friendly, supportive teammates. When they show interest in his achievements, Louis says it makes him feel "happy, excited, and proud."
Louis joined more than 40 other SOBC athletes and 350 young professionals for the 2019 Marathon of Sport Vancouver, held at the EA Sports complex on June 1. This high-energy event was a big success, raising almost $180,000.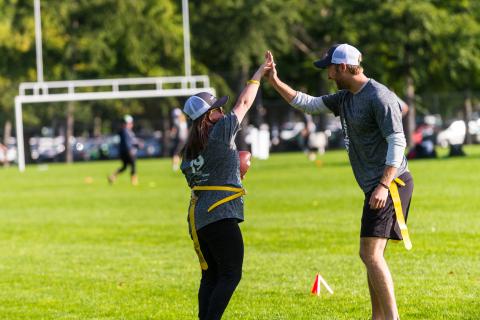 SOBC – Langley athlete Christopher Lakusta thanked participants, volunteers, and sponsors during his speech at the event. 
"Special Olympics is important to me and my fellow athletes so we have a place to compete and to also have a social life. It makes me so happy to see so many people like yourselves supporting Special Olympics!" he said. 
Read this Daily Hive Vancouver article on the event
The motionball Marathon of Sport Kelowna presented by Kelowna Toyota returned to City Park on September 21. More than 60 athletes and 350 young professionals participated in this fun and inclusive event, which raised almost $140,000. 
"The athletes look forward to this event every year. Lives are changed at this event. It's an opportunity for them to feel included, as a part of the team. To be a part of sports, and team sports, to be included and connected to community, it makes all the difference in the world," Marathon of Sport Kelowna Volunteer Director of Marketing and Communications Erica Marshall said to Global News Okanagan.
The outstanding fundraising total surpassed the event's fundraising goal and the total from last year's Marathon of Sport Kelowna.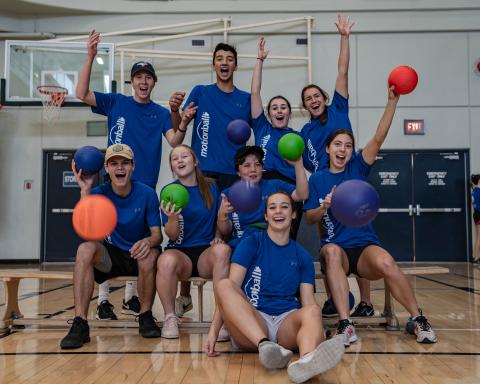 "Once again, we are blown away by the community support we received this past Saturday," event Director Derek Fuhr said to KelownaNow. 
There was a lot of creative fundraising for the Marathon of Sport Kelowna. In the lead-up to the event, longtime participant Darryl Reuter took to social media to say he would get a fire-breathing unicorn tattoo if he reached his fundraising goal of $10,000. Reuter ended up raising more than $15,000, and got the mythical creature tattooed on his back in October. 
Read this KelownaNow article on Reuter's fundraising efforts
In a very exciting development, the University of British Columbia's Okanagan Campus hosted the province's first motionballU event on October 20. The motionballU Marathon of Sport UBCO presented by RBC Royal Bank was a great time for students and SOBC athletes, and the event raised more than $10,000. 
Organizing committee member and UBCO Heat soccer midfielder Maddy Laranjo spoke to Castanet about her special connection to the event. 
"My sister has Down syndrome and I've grown up with that," she said. "When I was in my youth, in high school I got involved with Special Olympics coaching. I just know how incredible that was to me and how it impacted my life, so I wanted to share that experience with other people, so getting more involved through my university career and with the school was very important to me. I just want other people to feel that as well."
Stay tuned to Special Olympics BC channels for more motionballU announcements. 
In other 2019 motionball B.C. news, SOBC athletes and young professionals showed their skills with flying discs at this fall's The Ultimate Fundraising Tournament. The Vancouver Young Professionals Rotaract Club hosted this inaugural event, which raised more than $2,000. Also, Marathon of Sport Vancouver organizers launched an intramural multi-sport league, which will encourage past participants to get together in the 'off-season' to play some fun sports and reconnect with Special Olympics BC athletes.
Our sincere thanks to all the participants, organizers, sponsors, and volunteers who made these fun and inclusive motionball events so successful!