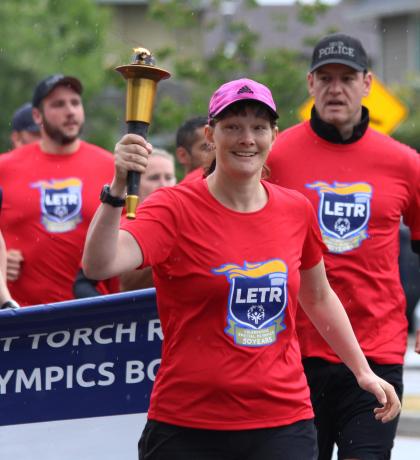 BC RCMP Staff Sergeant Tom Norton says participating in a Law Enforcement Torch Run for Special Olympics BC event is an incredible experience. 
"It's inspirational, there isn't anything like it. I can't describe it other than say you look around and there is chatter and all kinds of noise going on. It's excitement; it's electric!" Norton said during the Surrey leg of the Lower Mainland Torch Run. 
A dedicated SOBC – Abbotsford coach, Norton says his favourite thing about BC LETR events is they raise funds that provide SOBC athletes with life-changing opportunities and ensure coaches can have the privilege of working with Special Olympics athletes. 
All over the province, law enforcement members have been working hard to raise funds and awareness for SOBC through Law Enforcement Torch Run events. Along with playing an important role in supporting SOBC programs, these inspiring events highlight the amazing levels of camaraderie and mutual respect between LETR members and Special Olympics athletes.
The Lower Mainland Torch Run swept through 16 communities from June 5 to 8. More than 400 law enforcement members and 50 SOBC athletes took part, including a core team that ran in every leg of the event. 
Abbotsford Police Department Chief Constable and BC LETR Executive Council member Mike Serr says he looks forward to the Abbotsford leg of the event every year. 
"I just love meeting all the athletes and meeting all the coaches. It's a chance to catch up and hear about all the great events they participate in, the medals, and the achievements."
Part of the core team, which logged more than 55 kilometres during the four-day run, SOBC – Delta athlete Kim Davies enjoys spending time with her law enforcement friends  during the Lower Mainland Torch Run. 
"It's fun and I enjoy meeting a lot of people and making new friends. It's challenging sometimes but I enjoy it."
Law enforcement members ran shoulder to shoulder with SOBC – Prince George athletes and other members of the community at the Prince George Torch Run on June 7. Lisa Alvarez, a civilian employee with Prince George RCMP, played an important role in organizing the event and also laced up for the run along with her eight-year-old son.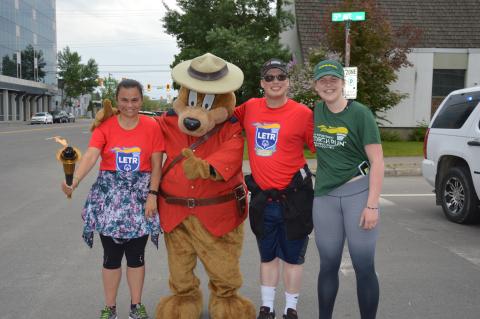 After a long hiatus, organizers brought back the Prince George Torch Run four years ago. Alvarez says it has been wonderful to help build an event that creates such positive effects in the community. 
The Prince George Torch Run is a 3.5-kilometre, family-friendly run/walk that ends with a barbecue. Alvarez says the event helps people understand that there are Special Olympics BC athletes in their community and brings attention to SOBC programs. 
Alvarez says it is great to see SOBC – Prince George athletes have a great time during the run. 
"You can see the pride and joy on their faces. It's a wonderful thing!"
Alvarez says the athletes are always very appreciative of the law enforcement members' support, and the LETR members love doing positive things in their community. 
Check out MyPrinceGeorgeNow's story and video on the event
Law enforcement members and SOBC athletes came together in May for a fun weekend of fundraising on Vancouver Island. From May 4 to 6, Saanich Police Department Constable Lisa Bruschetta, Central Saanich Police Service Corporal Pat Bryant, and Oak Bay Police Department Cst. Sheri Lucas camped out on scaffolding at Uptown shopping centre to raise funds and awareness for SOBC at Free the Fuzz. On May 6, Special Olympics supporters also hit the Galloping Goose Trail for the Victoria Torch Run.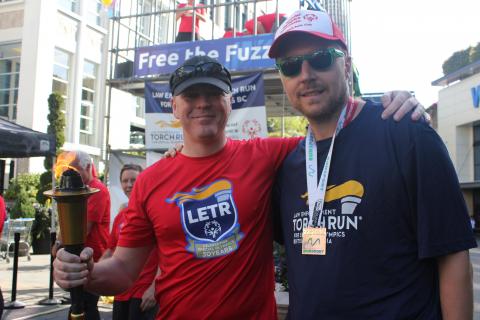 "I do it because I get so much back from it," Lucas said to the Victoria News. "It's amazing. If you see an athlete that starts Special Olympics, how far they develop in the friends they have and how much they come out of their shell, you would donate all the time."
We are very grateful to law enforcement members across the province who support Special Olympics BC through BC LETR events!