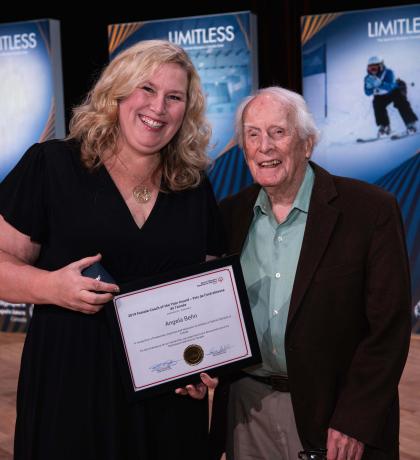 Each year, Special Olympics Canada recognizes its incredible athletes, coaches, and volunteers from across the country who exemplify the spirit and essence of the movement at the Special Olympics Canada National Awards Night in Toronto.
On November 14, four volunteers from B.C. were recognized for their outstanding efforts to enrich the lives of individuals with intellectual disabilities through the power and joy of sports.  
Angela Behn – 2019 Special Olympics Canada Female Coach of the Year
After 32 years of coaching, Behn's commitment to Special Olympics athletes has never faltered. Her continued support of her athletes and unwavering positive attitude is an inspiration to all.
"Remember that our athletes are first and foremost ATHLETES. The fact that they have an intellectual disability is not what makes them special. It is their striving for improvement…it is the sportsmanship and comradery seen at practices and at competition. It is seeing our athletes being included in unified opportunities and excelling in sport and their daily lives," the Special Olympics BC – Nanaimo coach said in her acceptance speech.  
Peter De Marchi – 2019 Special Olympics Canada Male Coach of the Year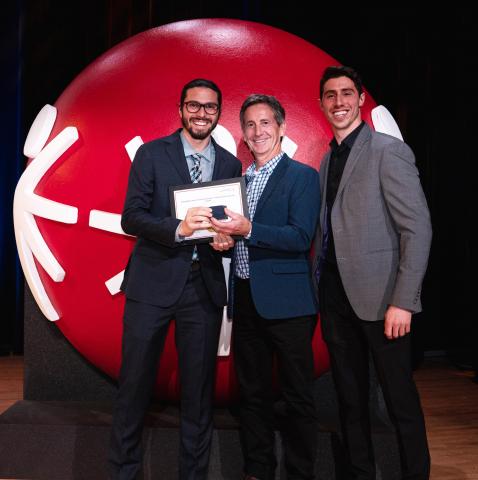 Over the past 10 years, SOBC – Burnaby's De Marchi has gone above and beyond as a volunteer coach. He also sits on his Local Committee as Program Coordinator – a position he's held since 2011 – where he helps secure program facilities and assists new coaches in program placement.
During his acceptance speech, De Marchi addressed all athletes: "I see you out there demonstrating to the world what it means to empower one another… You not only taught me how to be a better coach, but how to be a better person."
De Marchi shines a light on the transformative powers of Special Olympics and the inspiration we can take from one another.
Michael Blondé and Mike McClenahan – 2019 Frank Selke Fundraising Volunteer of the Year
Blondé and McClenahan are the two longest serving members of the motionball Marathon of Sport Vancouver volunteer organizing committee and have been instrumental in growing the event, which has raised more than $963,000 for the Special Olympics Canada Foundation.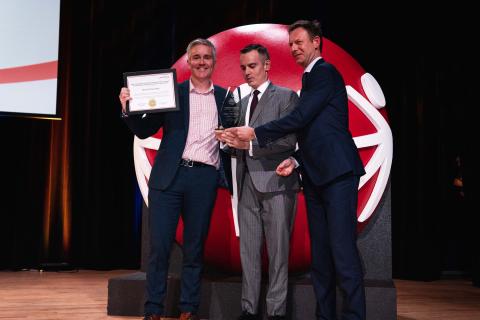 Pushing and supporting one another, they have proven to be an impressive duo when it comes to fundraising, and their leadership has inspired many others.
Congratulations again to all of this year's winners. They have truly made a difference and changed the lives of those around them! We look forward to their continued involvement in Special Olympics BC.