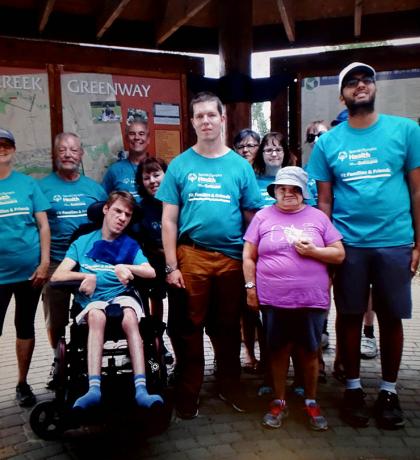 This summer marked the third year of SOBC running Fit Families & Friends programs, with the help of the Golisano Foundation Healthy Communities grant. These fun programs are great opportunities for SOBC athletes to get out with their families, friends, and social supports to meet as a group and exercise together in fun ways while sharing health and nutrition tips, creating an engaging environment to encourage each other, and meeting their health goals together.
Groups meet for weekly walks/hikes or other fun and healthy activities and together enjoy healthy snacks that can easily be made at home. In summer 2018, popular programs ran in Kelowna, Parksville/Oceanside, Castlegar, Smithers, and Trail.
SOBC – Smithers athlete Anne Forbes took part in Fit Families & Friends this summer and went above-and-beyond the expectations, as she found herself getting out to walk even on days went the program wasn't running. Forbes said she fell in love with keeping track of her steps, what she was eating, and the activities she did throughout the day.
When the program was cancelled due to smoke from the forest fires in the region, she still dropped off her weekly tracking forms and picked up new ones. Now that the program is over, Forbes said she plans on continuing to track her activities and what she eats.
Forbes works in a high school in the cafeteria where she encourages teens to pick vegetables as a side and explains that it's okay to have mac and cheese but if you're picking something unhealthy try to have something healthy with it.
Many thanks to all the participating volunteers, athletes, and supporters who made these programs so much fun and so helpful for health and fitness!
For more information on Fit Families & Friends, please contact Sarah Russell, Health & Engagement Coordinator for SOBC at srussell@specialolympics.bc.ca