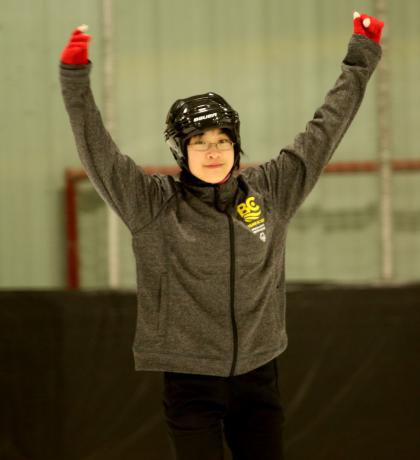 Special Olympics BC – Vancouver's Tin-Yee Ho had the amazing opportunity to compete with pride alongside top young athletes from across the country at the 2023 Canada Winter Games in Prince Edward Island!
Canada Games are separate from Special Olympics Canada Games. The prestigious sport event gives SOBC athletes a chance to shine in front of their peers from other sport groups, and gain experience at major competitions.
Special Olympics athletes compete in their own sport divisions, and they give their all as members of provincial teams alongside top young athletes from a range of sports, sharing great team spirit all together.
Ho headed to PEI fresh off a podium finish at the 2023 SOBC Winter Games in Kamloops, where she won silver in figure skating! She competed on March 1 and showed her talents skillfully in front of the national audience.
Ho was part of Team BC alongside SOBC – Vancouver figure skating coach Jessica Chapelski, who is also SOBC's provincial technical advisor for figure skating, and mission staff Jean Tetarenko, a former SOBC staff member and volunteer!
Chapelski said the Team BC and Canada Games experience was inclusive and welcoming. "We have a great BC coaching team. We talked ahead of the Games about inclusion and respecting diversity," she told Team BC.
Chapelski says the Canada Games are an opportunity for more exposure to the Special Olympics program and to recruit more volunteers. "For sure, I will shamelessly promote our program and have volunteers come to us," she told Team BC.
Please join us in congratulating Tin-Yee and Jessica for their success at the 2023 Canada Winter Games!