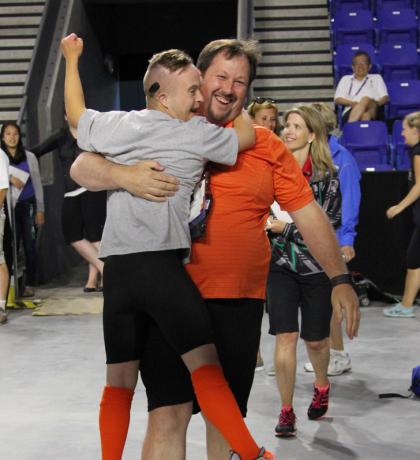 Special Olympics BC – Campbell River coach George Maclagan is SO Team Canada 2019's powerlifting Associate Coach. After completing the powerlifting squad's last training camp prior to the 2019 Special Olympics World Summer Games, he generously took the time to share the following reflections.
The Maple Leaf is a symbol of freedom, determination, inclusion and acceptance throughout the world. Generations of men and women have worn CANADA on a khaki uniform and through their sacrifices created a country where we can succeed, be who we are and want to be, not who we are not or what others want us to be.
The journey to the 2019 Special Olympics World Summer Games in Abu Dhabi and the culmination of 50 years of Special Olympics excellence started long ago for the members of Team Canada. In small towns, in tiny gyms, on well-used track and field facilities, and in busy community pools, athletes and coaches train to improve and gain new skills. All supported by amazing volunteers, these athletes and coaches challenge themselves to reach new heights and break through barriers to achieve personal bests all in an effort to be found worthy of wearing the Maple Leaf. 
For over 10 years I have been blessed to coach some of Canada's finest Special Olympics athletes in the sport of powerlifting. It is a tight community that is supported by many organizations like the British Columbia Powerlifting Association who set the standard for acceptance and inclusion in sport. I have seen my son grow into a man and become a better person because of the power and global influence of sport.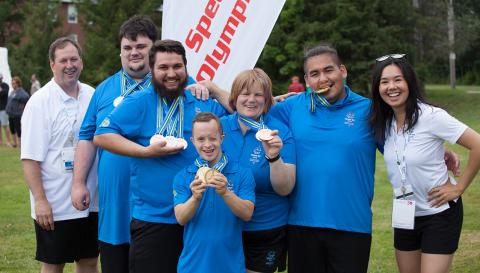 I have learned from some of the very best powerlifting coaches like Gerry Kennedy and Emma Woo and athletes like Tye Cranton and Mickie Hildebrandt. Listened to and been mentored by people such as Serge Boulianne, Harvey Hunter, Dan Howe, and Lois McNary. Been inspired and held accountable by amazing coaches like Ross MacIntosh, Tom Norton, and Donna Bilous who always seem be on the leading edge of great coaching techniques and are always ready to share what they know and to help you to find your own personal level of excellence. 
All of what I have accomplished pales in what is coming. On March 14, 2019, I will be walking in as part of Special Olympics Team Canada to the 2019 World Games Opening Ceremony at the Zayed Sports City Stadium in Abu Dhabi. Every member of my family, my community, and my Special Olympics family will be with me. What an honour and what a responsibility. To be part of Team Canada has been a dream, something I have worked for but never thought I would be chosen. I am truly humbled and excited to be part of this amazing group of Canadians.
Our Team Canada powerlifting athletes from across Canada are ready. Christine Sullivan, Josee Seguin, Andre Goulet, Paul Perrault, and Mike Bandler are worthy to wear the Maple Leaf. These committed athletes and their community training coaches have embraced the National Training Program. Head Coach Ross MacIntosh and I have been challenged by their performance to become better ourselves and we are proud of the improvements and investment of time that the athletes, coaches, and communities have made in this journey to personal-best performance on the world stage.
I will do my best to live up to 50 years of athletic excellence that continues to be pursued every day by Special Olympics athletes around the globe. "Let me win. But if I cannot win, let me be brave in the attempt," and I promise you that I will do my best to ensure that Team Canada embraces and showcases these values to the world. 
-George Maclagan – Associate Coach Powerlifting Team Canada 2019 – #ChallengeAccepted