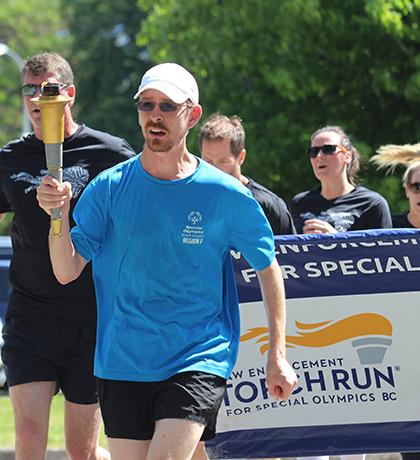 Vancouver Police Department Constable Cam Mackay says the most rewarding thing about participating in Law Enforcement Torch Run for Special Olympics BC events is seeing all the smiles. 
Cst. Mackay ran shoulder to shoulder with SOBC athletes and other law enforcement members during the 2019 Lower Mainland Torch Run. He says BC LETR members are inspired by Special Olympics athletes, and he was happy to see so many law enforcement agencies come out for the event.   
"The Torch Run is great because it brings all of our organizations together for a common goal and allows us to share our experiences from prior years," he says. 
In June and July, law enforcement members and Special Olympics BC athletes laced up for BC LETR run/walks in Cranbrook, Golden, Kamloops, Prince George, Trail, Victoria, and across the Lower Mainland. Along with raising vital funds and awareness for SOBC, these events demonstrated the amazing levels of camaraderie between law enforcement members and Special Olympics athletes.
More than 400 law enforcement members and 50 SOBC athletes participated in the Lower Mainland Torch Run, helping spread a message of respect and inclusion in 16 communities. As a member of the core team, Cst. Mackay ran in every leg of the event.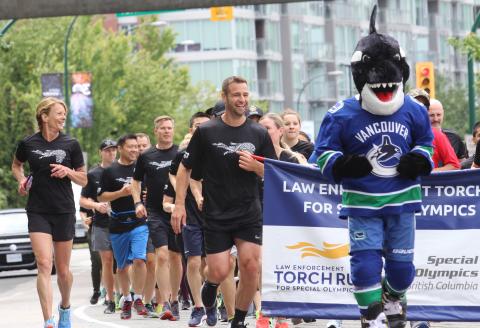 For Cst. Mackay, the most memorable parts of the run were hearing stories from longtime BC LETR members, including retired Delta Police Department Deputy Chief Constable Lyle Beaudoin, Delta Police Department Inspector Debra McLeod, BC RCMP Staff Sergeant Tom Norton, and Vancouver Police Department Insp. Joanne Wild. Cst. Mackay said it was inspiring to learn about the lifelong friendships they have developed with Special Olympics athletes, the athletes' families, and other BC LETR supporters. 
"The Law Enforcement Torch Run has become a global endeavor taking athletes and police officers all over the world. However, it is rooted in its community-based events and relationships," Cst. Mackay says.
A highlight of the four-day run was Vancouver Canucks alumnus Chris Higgins and mascot FIN running in the Vancouver leg. A longtime supporter of SOBC, Higgins has a sister who is a Special Olympics New York athlete and a brother who is a New York Police Department officer.
Lower Mainland Torch Run photos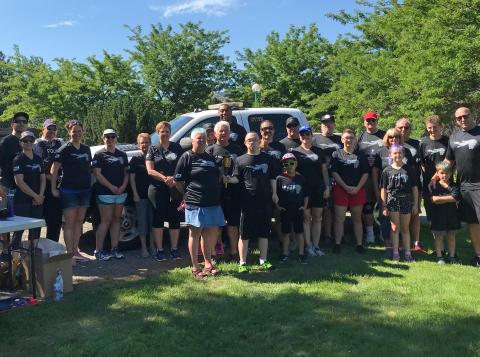 In an exciting development this year, Kamloops RCMP members re-established the Kamloops Torch Run. The run/walk took place on June 15 and also received support from BC Corrections and B.C. Sheriff Services members along with SOBC – Kamloops athletes.
"The most rewarding part is the positivity that comes from the Special Olympics athletes," Kamloops RCMP Cst. Sofie Winkels says. "In policing we usually see a lot of negative and it is great to get out and do such a positive event."
Golden-Field RCMP members and SOBC – Golden athletes celebrated Canada Day in style at their LETR event. They joined other members of their community for a fun five-kilometre run/walk. More than 60 people participated and the event raised more than $1,000. 
For Golden-Field RCMP Cst. Robyn Diddams, the most memorable aspect of the run/walk was seeing the amazing support from people in her community. 
"I love seeing the community come together to help each other out," she said.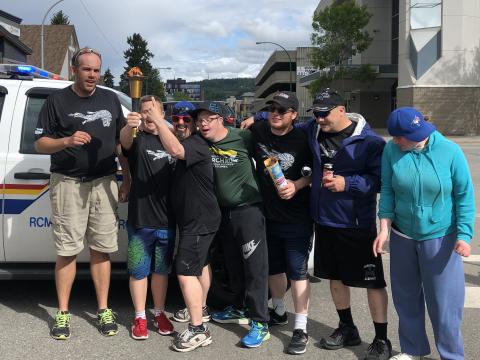 BC LETR champions in Prince George held two successful fundraisers in June, raising a combined total of more than $5,000. On June 1, BC Corrections, B.C. Sheriff Services, Prince George RCMP, and Prince George Fire Rescue members hosted a car wash. On June 6, members from the public safety organizations joined SOBC – Prince George athletes and other members of their community for the Prince George Torch Run. 
"This is such a rewarding event to be involved with," said Prince George RCMP Insp. Shaun Wright. "The enthusiasm of these athletes is contagious and makes us all want to help them to achieve their goals in their respective sports."
We are very grateful to all the law enforcement members and agencies who do so much to support SOBC! Learn more about BC LETR events at www.specialolympics.bc.ca/letr