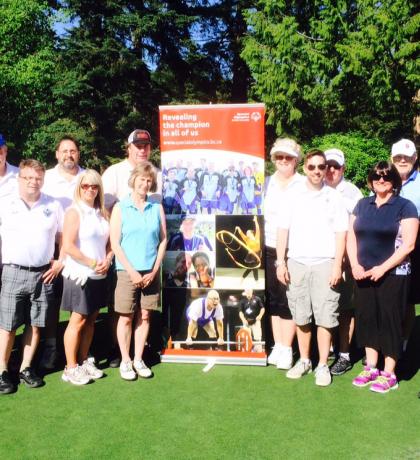 Dedicated athletes and coaches have been busy in 2015 at Special Olympics BC Performance Program camps where they have had the chance to elevate training and competition techniques.
New opportunities have included SOBC's first-ever bocce and golf camps, new dryland practices for cross-country skiing, a team sports camp, and a mixed winter and summer sports camp.
SOBC's Performance Program is a 10-year plan for enhancing the skills and performance of coaches and through them, all of the athletes of Special Olympics BC. The goal is to elevate everyone's level of sport and performance by providing training and tools to participating coaches and athletes so they can share them with everyone in their home communities.
Bocce camp
The first SOBC Bocce Performance Camp was held June 26 to 28 in Osoyoos and Oliver, in conjunction with the SOBC – South Okanagan Bocce Tournament.
Among the seven participants at the coach-specific camp was Debbie Roblin of SOBC – Fort St. John, who was new to bocce.
"I enjoyed the networking and the sharing of stories as to what works for certain athletes or certain disabilities. I truly enjoyed the team spirit that was shared," Roblin said.
Participants benefitted from the expertise of SOBC – Penticton bocce coach Dona Cade of Team Canada 2015. Coaches learned new warm-up exercises and skill drills, and had a chance to share with each other what they are doing in their programs back home. They were also prepped on game etiquette, rules of the game, and officiating before having the opportunity to officiate the regional bocce tournament in Oliver where 16 teams competed.
Roblin said she discovered that the dedication of coaches and athletes makes bocce a fully inclusive sport. She also came away from the Performance camp with the nuts and bolts, such as how to measure properly, the meaning of a dead ball, and the rules specific to Special Olympics.
"I learned many useful strategies, how other coaches can engage just a couple of athletes when there is not enough for a game, and I learned a few new warm-up exercises that I was very impressed with and could see the benefit of these with our athletes in many different sports," Roblin said. "I left there feeling like I know I can coach this sport with no second thoughts. I am ready."
Leslie Thornley, SOBC Manager, Sport, said one outcome of the camp was that now more time will be spent on all coaches becoming familiar with the rules of bocce, which is a relatively new sport for SOBC.
Thornley added that the coaches were very enthusiastic about the camp and realized there was more to learn about strategy and coaching the game.
Golf camp
The first SOBC Golf Performance Camp hit the links May 30 at the Burnaby Mountain Golf Club, with 16 participants from across the province at the coach-specific camp.
Bryan LeBlanc has coached golf with Special Olympics for 10 years, spending the last two with SOBC – Surrey where he is Head Coach for golf and 10-pin bowling, and has been a Head Coach for golf at National Games.
LeBlanc says he participated in the Performance camp to learn and share golf techniques with other coaches to help athletes achieve their goals.
"My favorite session was working with all the other coaches in our groups to brainstorm new ways to help our athletes and coaches with golf," LeBlanc says.
His takeaways from the camp were learning from experienced coaches, planning for possible tournaments, and getting a new coaching manual.
Performance camp sessions included designing a practice plan and goal setting, mental training, tips for the short game, and developing a pre-shot routine and fun skill-based games.
Cross-country skiing camp
On June 27 and 28 a dryland SOBC Cross-Country Skiing Performance Camp took to the hills and facilities of Kelowna, introducing participants to several new training techniques.
SOBC – Kelowna's Garth Vickers, Team BC 2016 Head Coach for cross-country skiing, led a hike along Crawford Park trails where he showed participants proper poling techniques and how to approach hills and valleys, simulating what it would be like on snow – a first-time camp experience.
"It helped me with my endurance, and how to place my poles," said SOBC – Kelowna athlete Katarina Gerhardt, a member of Team BC 2016.
Gerhardt also got to try the new cross-training session with in-line skates when participants took to the rink with expert Dallas Kurtz. Kurtz taught proper skating technique, turning, breaking, how to fall safely, and skating with poles in sessions that reinforced techniques from previous Performance camps.
"I had never been on roller blades before," Gerhardt said. "I have poor balance and it helped my balance."
Gerhardt said when she used the poles she didn't have to rely as much on others for help.
Gerhardt hopes to use her new-found training techniques to prepare for the 2016 Special Olympics Canada Winter Games in Corner Brook, Newfoundland and Labrador.
Other recent Performance camps have included the SOBC Floor Hockey and Soccer Performance Camp on July 25 and 26 at Simon Fraser University – the first SOBC team sport camp; the SOBC Athletics and Snowshoeing Performance Camp in Richmond in May – the first camp to combine winter and summer sports; and the SOBC Speed Skating Camp on Vancouver Island in June.
Coaches and athletes are looking forward to a mixed figure skating and rhythmic gymnastics camp to be held in Burnaby on August 22 and 23.
More SOBC athlete and coach resources